Come Summer and we start craving for foods that cool us off and provide much needed relief from the heat!Fresh fruits,salads,ice-creams,cool desserts are always welcome!Recently, I received some delicious Walnuts from California Walnuts that I have been enjoying for my snack!Our Sunday Supper featuring 'Summer Berries' seemed like the perfect opportunity to use them since my Mini Strawberry Cheesecakes have a Walnut Crust!Sounds great, doesn't it?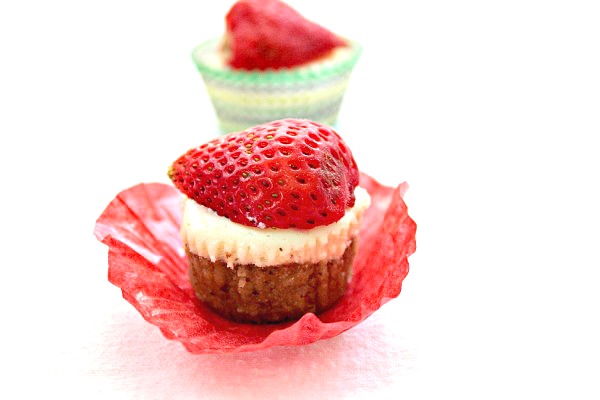 Wait till you taste it!Its out of this world delicious and just the perfect little bite for a sweet treat at any time!These couldn't be easier and did you know they're also secretly healthy?You're very welcome. 🙂 The process starts in the food processor when the walnuts are crushed to resemble crumbs and the butter and sugar are added into the mix.I love the Walnuts in the crust and they impart a rich deep flavor to it.The filling consists of Reduced Fat Cream Cheese and Greek Yoghurt that make these treats even more enjoyable without feeling guilty.The sweet juicy Strawberries just complete the look and give them a fresh sweet taste that makes you crave for more and more.A cute dessert perfect for these hot summer days!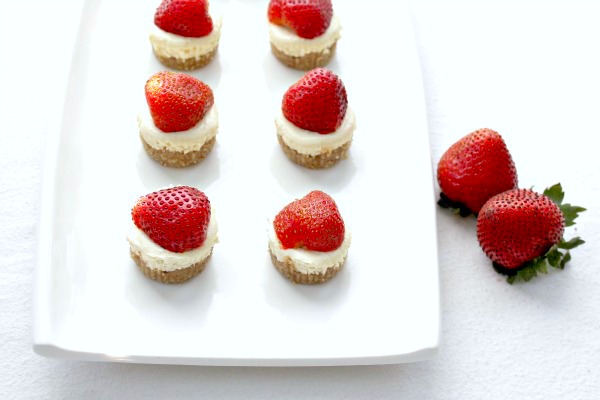 Mini Strawberry Cheesecakes with Walnut Crust
Ingredients
For the Crust

Ground Walnuts-1 1/2 cups
Melted Butter-4 tbsp
Sugar or honey-2-3 tbsp

For the Filling

Reduced Fat Cream Cheese-8 oz (room temperature)
Egg-1 (room temperature)
Greek Yoghurt-2 tbsp
Vanilla Extract-1 tsp
Sugar-1/4 cup

For the Topping

Fresh Sliced Strawberries
Instructions
Preheat the oven to 350 degrees.
In a food processor place the Walnuts and pulse them until a crumb consistency.
Add the butter and sugar and pulse again.
Line a mini muffin pan with muffin liners.
Evenly divide the mixture among the liners and press with your fingers all over.
In a bowl using your electric mixer beat the softened cream cheese and egg until creamy.
Gradually add the sugar and beat until smooth.
Add the Greek Yoghurt and vanilla and beat until combined.
Pour a tbsp or two on prepared muffin cups.
Bake until the cheesecakes are puffed and set in the center about 17-20 mins.
Transfer the pan to a wire rack and let it cool in the pan and then transfer into a tray and cool completely.
Refrigerate for a few hours or overnight.Garnish with sliced strawberries and serve.
http://www.sonisfood.com/2013/06/mini-strawberry-cheesecake-with-walnut-crust-sundaysupper.html
www.sonisfood.com
This event is hosted by our lovely Nicole from Daily Dish Recipes  and we have an amazing recipe collection using "Summer Berries"!!
Breakfast & Brunch
Sweet & Savory Berry Recipes
Jams, Jelly, Sauces & More
Desserts
Cocktails, Drinks & Smoothies
Party Planning
Check back on Sunday for all of wonderful Summer Berries recipes! We'd love if you joined our #SundaySupper chat on   Twitter too: we'll tweet throughout the day and share all of our recipes. Then at 7:00pm EST we'll start our weekly chat. Please jump in anytime and join us!  To join in, just follow the #SundaySupper hashtag, and remember to include it in your tweets. You can also check out our #SundaySupper Pinterest board for more delicious recipes and photos.
 Look what we're sponsoring! Come join us in sunny Orlando, this July!