Some foods pair beautifully,
Its as if they're meant to be
Like Cheese and Wine
like Fruit and Brie
Like Berries and cream
That we so love to eat
I have to add another to the list
Peach with Thyme
as you're about to see,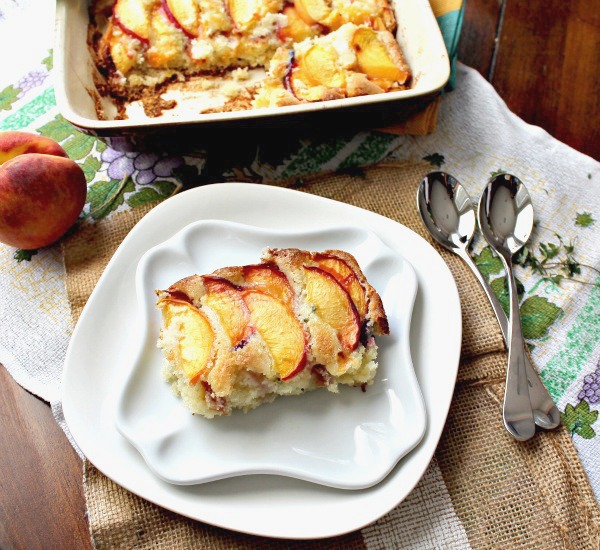 I got some gorgeous Peaches from TraderJoes the other day
And was looking to use them in some way
Came across this recipe that used Peach with Thyme in a cake
I knew exactly what I was going to make 🙂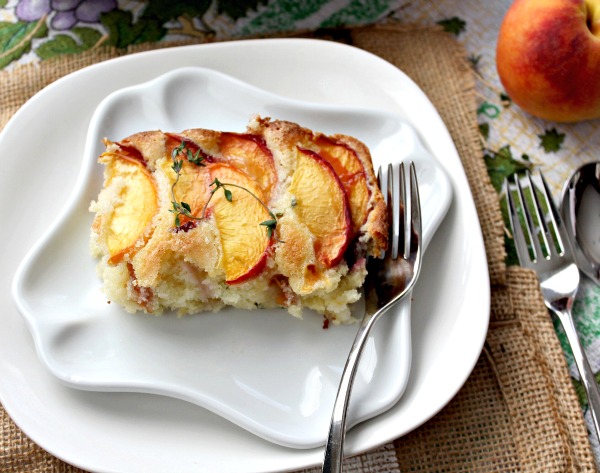 Then began the measuring, the mixing and the baking
and Boy, was it outstanding!!
So moist and I'm sure it was the magic of the buttermilk
The earthy woodsy flavor of Thyme,
the sweet juicy peaches
In a perfect harmony of sweet and earthy
They pair beautifully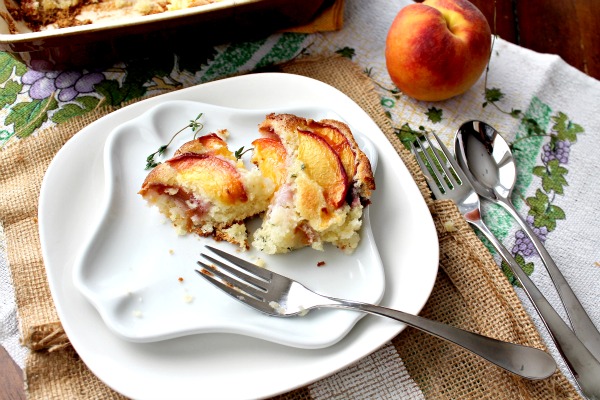 Recipe source-Jelly Toast Blog
Ingredients
4 tablespoons unsalted butter, room temperature
1 cup all-purpose flour
1/2 teaspoon baking powder
1/4 teaspoon baking soda
1 1/2 teaspoons chopped fresh thyme leaves
1/2 teaspoon coarse salt
3/4 cup plus 2 tablespoons sugar
1 large egg
1/2 cup low-fat buttermilk
2 ripe peaches thinly sliced
Instructions
Preheat oven to 375 degrees.Grease a 8"x8" square baking dish or a cake pan with cooking spray.
In a bowl mix flour,baking powder,baking soda,thyme and salt.Keep aside.
In a separate bowl cream the butter and 3/4 cup of sugar with an electric mixer until all creamy.
Add the egg.Add the flour in three additions alternating with the buttermilk making sure to begin and end with flour mixture.
Pour the batter into the prepared dish and smooth with an offset spatula.
Arrange half of the peach slices on top and sprinkle with 2 tbsp of sugar all over.
Bake for 35-40 minutes or until a toothpick inserted in the center comes out clean.
Add the remaining peaches halfway through the baking.You might want to add a extra minute or two to the overall baking time due to this step.
Allow to cool before serving.
http://www.sonisfood.com/2013/06/peach-thyme-cake.html
www.sonisfood.com