Its Summer Holidays and I'm off for a vacation with my family!While I'm holidaying I've got some amazing blogger friends sharing their fabulous recipes with you all!I'm very pleased to have my Sunday Supper friend Cindy from Cindy's Recipes and Writings today.I've always admired Cindy's recipes whether its her savory Chicken Sausage, Peppers and Couscous or sweet Boston Cream Pie Trifle !She is a versatile cook/baker and her recipes are absolutely delicious!You can follow Cindy on Pinterest or Twitter!I'll let Cindy take on from here!
—————————————————————————————————————————————————-
Hi I'm Cindy and I'm so excited to guest post today for Soni on her wonderful blog here at Soni's Food.
I love her take on recipes and my favorite is her Chicken Burgers with Curried Cabbage Slaw. It is out of this world good! I've never had anything like it.
That says a lot because I've been in Food Services almost 40 years. I cook for a living and love to write and develop recipes for newspapers and magazines. Stop by sometime and say hi at Cindy's Recipes and Writings.
This salad is great for picnics. No fuss. No mayo or dairy to worry about since it has an oil and vinegar base. I especially like it the next day after the flavors have had time to develop fully.
Wheatberries contain an impressive amount of fiber along with protein, phosphorous, potassium and iron.
Try this healthful, make-ahead timesaver at your next get-together. Remember to make a little extra for a snack for yourself. You'll be glad you did!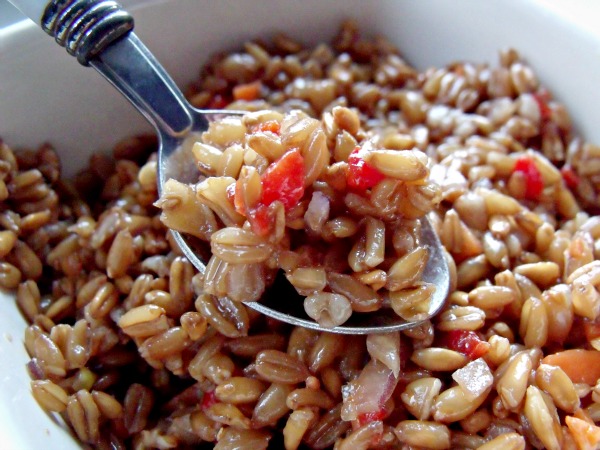 Wheatberry Salad
Ingredients
2 cups hard winter wheatberries
6 cups vegetable broth
1/4 cup finely diced red onion
1/4 cup olive oil
2 Tablespoons balsamic vinegar
1/2 cup roasted red peppers, finely diced
1/4 cup carrot, finely diced
salt and pepper to taste
Method
Place the wheatberries and broth in a saucepan and bring to a boil. Reduce heat and continue cooking until wheatberries are softened but still chewy (about 45 minutes). Drain.
While wheatberries cook, mix together in a medium-sized bowl 2 tablespoons of the oil, vegetables and vinegar.
Add cooked drained wheat berries and as much of remaining oil as needed to coat and moisten berries.
Marinade salad for a minimum of 30 minutes before serving.