I'm off to India for ten days to see my Mom who has been unwell for sometime now and have some bloggers and non-bloggers (including my hubby) lined up who will be guest posting on my blog while I'm away!So enjoy all these delicious recipes in the meantime and I'll see you all once I'm back!!
My first guest is my lovely friend Cindy from Cindy's Recipes and Writings who has also guest posted for me in the past with this wonderful  Wheatberry Salad that's super healthy and delicious!!Cindy is an accomplished chef and writer.Her published writings include contributing writer for three newspaper columns, "Garden Spot" in Pocono Record,"The Watering Whole" in Times News and "Lawn and Garden" in Pocono Xpress. Her articles have appeared in national publications including: Mother Earth News, Backhome Magazine, Fresh Magazine, Clamor, Inscriptions, Relish, Parenting Humor, Poor Mojo's Almanac, The Muffin, Funds for Writers and several online newspapers and publications. Without further ado here's Cindy!
---
I'm so excited to be guest posting for Soni at Soni's Food  .
I cook for a living. I'm a chef, food writer and recipe developer. I never really tire of cooking but like my friend, Soni, I like to try new cuisines.Today I'm sharing a vegetarian dish. I try to make at least one meatless meal a week. This split pea moves up a notch on the soup ladder by adding reconstituted dried porcini mushrooms and barley.To thicken the soup I used Cream of Wheat also known as Farina. Cream of Wheat adds body without any grit. If wheat or gluten is a problem for you, substitute corn starch in the same amount and leave out the barley.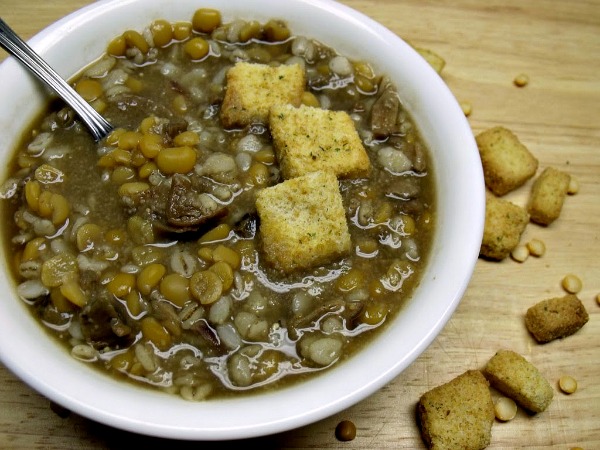 This soup is fast and easy. The flavors blend well without the need for added spices.Thanks Soni for letting me share a little something about myself with your readers!
Split Pea and Porcini Mushroom Soup

Ingredients:
1 cup dried split peas (green or yellow)
3 cups vegetable broth
3/4 cup cooked barley
1 cup dried porcini mushrooms, reconstituted drained and chopped
2 Tablespoons Cream of Wheat or Farina
salt and pepper to taste
croutons (optional)
Process:
Bring split peas, mushrooms and broth to a boil. Reduce heat and simmer for 20 to 30 minutes until tender.
Add barley and cream of wheat.
Serve with croutons if desired.