Since we're left with these last few weeks of summer I decided to grill some gorgeous peaches that are in season right now!I also recently discovered Halloumi Cheese at Trader Joe's and thought of grilling those along with my Peaches. Halloumi is a Cypriot semi hardened cheese made with sheep and goat's milk.Its great for grilling since it holds quite well as compared to other cheeses. I love grilling fruits since they bring out their natural sugars and caramelize with beautiful grill marks on them.Great to have them in a salad or as a light dessert if you're having a BBQ!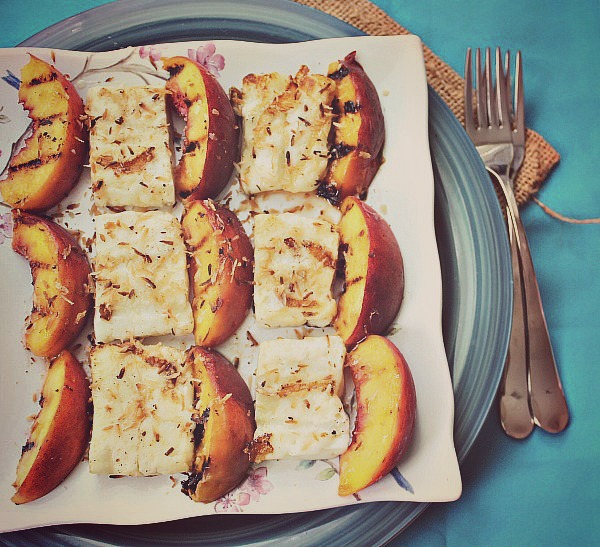 The drizzle of Honey adds the sweet element and the toasted Coconut was a last minute garnish idea that popped in my head while the fruit and cheese were on the grill.I love toasted coconut in everything, just gives a lovely nutty flavor to dishes.Last but not the least was the sprinkling of black pepper to balance the saltiness of the Halloumi and it also spiced it up a bit!We loved the flavors and enjoyed it for a little dessert after our meal 🙂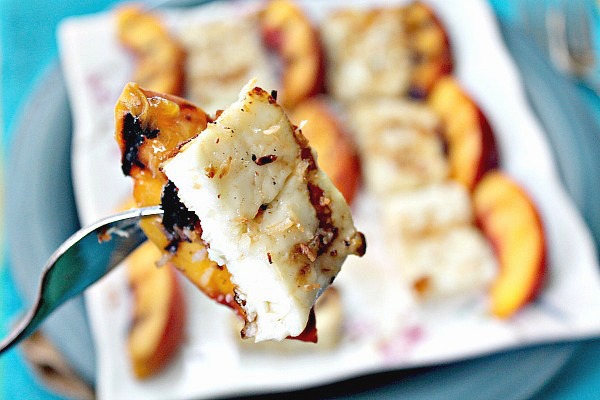 Grilled Peaches and Halloumi with Honey and Coconut
Ingredients
Peaches-3 pitted and sliced
Halloumi Cheese-6-8 pieces
Honey -3 tbsp
Shredded Coconut-3 tbsp
Black Pepper-1/4 tsp
Instructions
On a lightly oiled hot grill place the peaches and the halloumi cheese for about a minute or two.
Flip them over to develop color on the other side.
Toast the shredded coconut in a dry pan over medium heat until slightly golden.Let it cool.
Arrange on a platter and drizzle honey all over.
Sprinkle the toasted coconut and black pepper all over.
Enjoy!
http://www.sonisfood.com/2013/08/grilled-peaches-and-halloumi-with-honey-and-coconut.html
www.sonisfood.com