When it comes to making your own lunch or your kids' lunches you're sometimes lost as to what to pack.School starts in a few weeks and I can see myself fretting over what to pack in my Ten year old's lunchbox. For starters, my daughter does not like sandwiches and I end-up making some kind of pasta dish almost every other day for her lunch.I know that she's fond of Wraps but then again she doesn't want cold-cuts inside and that has got me thinking of coming up with something that she would love, like these Indian Spiced Chicken Meatball Wraps that are healthy and packed with flavor to please all those picky eaters (kids and adults)!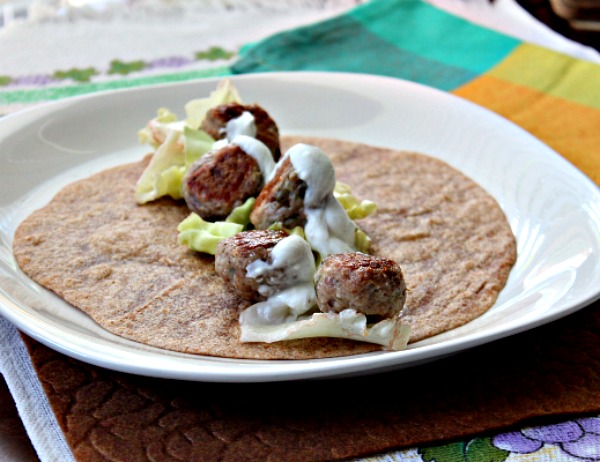 My Indian Spiced Chicken Meatballs are baked in the oven, have tons of flavor from the coriander,garam masala, cilantro and mint!Whether you are a cilantro lover or hater you will love this recipe since I've used a combination of mint and cilantro that balances the flavor of both the herbs and is used extensively in Indian cooking.The grated onion keeps these meatballs moist and you can make  a big batch of these and freeze them for later use.Use them in soups,curries,even as a tasty appetizer for your next party!The possibilities are endless!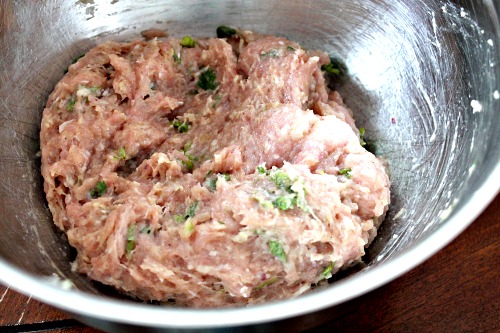 For the wraps I use Whole wheat tortillas and any salad mix.I also make a simple raita using Plain Yoghurt with some salt and ground toasted cumin.You pack each item separately and assemble at lunchtime.Its a great variation from the usual and a fun way to enjoy Indian flavors!I made these for our dinner yesterday and got a big thumbs-up from my both my kids! 🙂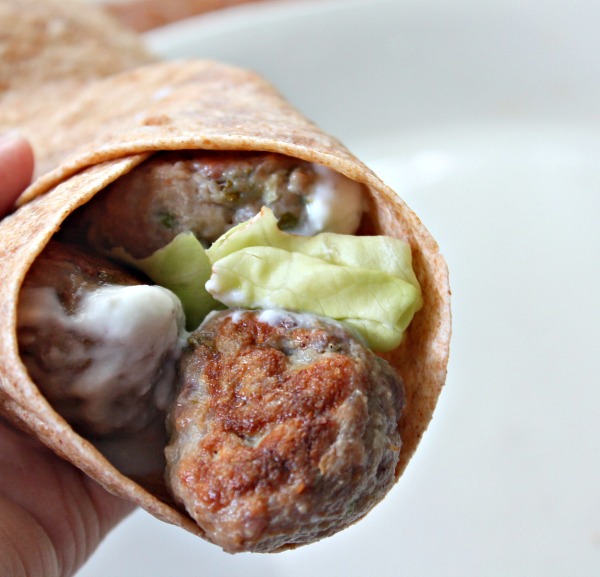 Indian Spiced Chicken Meatball Wraps
Ingredients
Whole Wheat Tortillas-4
Salad mix-2 cups

For the Meatballs

Chicken Mince (breasts and thighs)-1 lb
1 small onion- grated or pureed
Crushed Ginger-1/2 tbsp
Crushed Garlic-1/2 tbsp
Ground Coriander-1 tsp
Garam Masala- 1/2 tsp
Chopped Fresh Cilantro -1/2 cup
Chopped Fresh Mint-1/2 cup
Salt-to taste

Raita

Plain Yoghurt-2 cups
Cumin Seeds-1-2 tsp
Salt-to taste
Instructions
Preheat oven to 375 degrees.
In a dry pan, toast the cumin seeds on medium until slightly golden.Allow to cool and crush using a pestle mortar.
Mix the Raita ingredients in a bowl and keep in the fridge.
Mix all the meatball ingredients in a mixing bowl.
Make small balls and place on a greased foil lined baking sheet.
Spray with cooking spray all over the top.
Bake in a preheated oven for 15-20 mins until slightly golden.

To assemble

Take a Tortilla Wrap and place some salad greens in the center.
Add 4-5 meatballs and pour some raita all over.
Roll and enjoy!
http://www.sonisfood.com/2013/08/indian-spiced-chicken-meatball-wraps.html
www.sonisfood.com
This event is hosted by the lovely Liz from That Skinny Chick can Bake and we've all come together to share some exciting lunch ideas for you all!!
Sandwiches, Wraps and Entrees:
Munchies, Salads and Sides:
Sweet Treats:
And remember that we have a #SundaySupper chat tonight at 7 PM. We tweet throughout the day using the hashtag #SundaySupper, then we all gather to share ideas, recipes and answer questions from 7-8 PM ET. Check out our #SundaySupper Pinterest Board for more fabulous recipes and food photos.
Would you like to join the Sunday Supper Movement? You can sign up here: Sunday Supper Movement