Hi all!!I'm so excited to be back again after my holiday :)!!I have to admit though that I've hardly cooked in the past month and have been enjoying all the pampering from my parents back home :)!I'm totally refreshed after this break and cannot wait to share some exciting recipes with you all!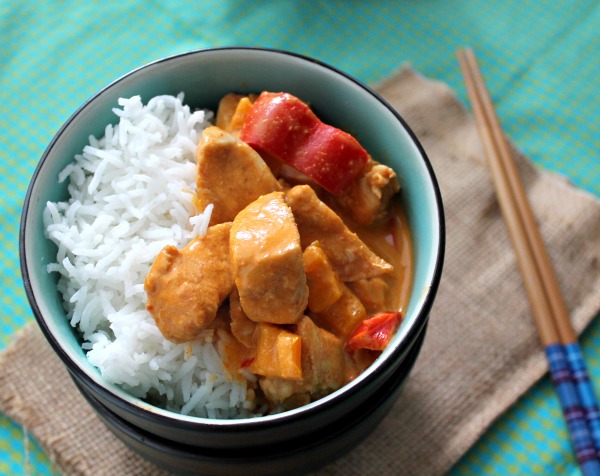 For starters I've got for you an easy weeknight dinner that I cooked first day back.Its a family favorite and comes on the table in no time!I love preparations like this where you get the health benefits of both meat and veggies in the same dish.I'm a big fan of Thai Kitchen Red and Green Curry Paste.I have them in my pantry always and they really come in handy when you're looking to cook something quick and exotic!All you need is some coconut milk which is also one of my favorite pantry items that I use a lot.
The lemongrass and galangal together with spices brings the redolence so unique to Thai dishes and the creamy coconut milk is all you need to give that rich consistency.Enjoy!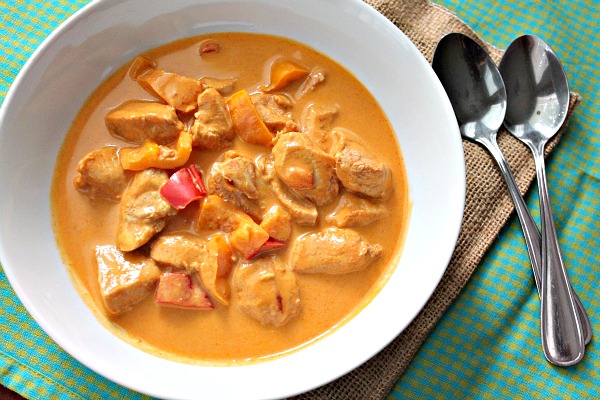 Ingredients
Chicken Breasts cubed-1 lb
Thai Kitchen Red Curry Paste-3 tbsp
Ground Coriander-1/2 tsp
Ground Cumin-1/2 tsp
Red Peppers-1/2 cup
Yellow Peppers-1/2 cup
Coconut Milk-13 oz can
Oil-2 tbsp
Instructions
Heat oil in a skillet and add the Thai Red Curry paste.
Add the cumin and coriander and gently sauté on medium heat for a couple of minutes.
Add the cubed chicken pieces and sauté for about two minutes.
Add the coconut milk, bring to a boil, reduce the heat and simmer until the chicken is almost cooked.
Add the peppers and continue to cook until done.
Serve hot with steamed rice!
http://www.sonisfood.com/2013/08/thai-red-curry-chicken.html
www.sonisfood.com