Cooler air this week has got me thinking, are we braced for an early winter this year?I have to admit that I'm not a winter person.I mean I don't mind the occasional snow that accumulates just enough for the kids to make their own snowman and snow angels and melt off the next day, while its still pristine white.I dislike the snow that lasts for days turning into ice ready to break people's backs.Its just not fun.Not to mention the mess it makes.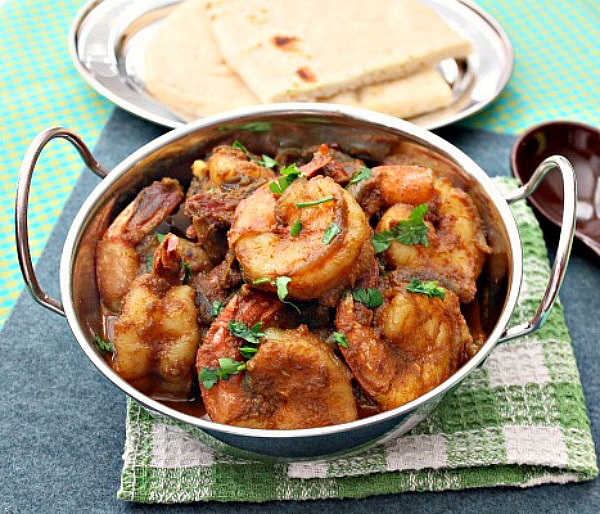 But hang on,why am I talking about winter yet?We haven't even witnessed 'Fall' and don't know what that has in store for us.Last year 'Sandy' just destroyed it all and I sincerely hope and pray that major hurricanes steer clear of our shores!Inspite of all this I still love 'Fall'.I just love the warm colors of the leaves,the cool breeze,the pumpkins,the excitement of my kids to dress up for Halloween,the apples,the stews,warm comforting dishes hot from the oven and talking about hot my Masala Shrimp just fits the bill perfectly.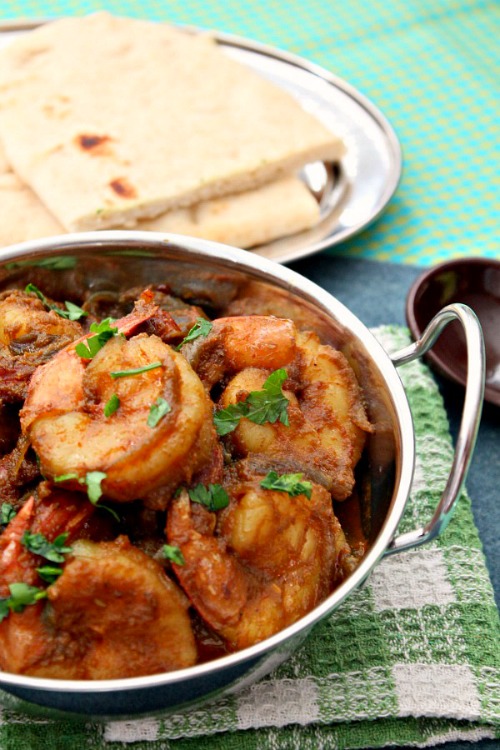 Spicy and full of flavor this dish is my perfect companion for these cool days and since we're using Shrimp here they don't take too long to cook!The heat comes from the green chilies,the red chili powder and the garam masala.The spices give it tons of flavor and you can serve it with rice or naan bread to scoop up all those lovely juices!Its one of those special dishes you make when you're craving something really spicy.
Ingredients
Jumbo Shrimp-1 lb cleaned and deveined
Onion-1 large onion chopped into small pieces or grated
Ginger-1 inch crushed
Garlic- 3 cloves crushed
Tomato-2 pureed
Ground Cumin-2 tsp
Ground Coriander-2 tsp
Turmeric-1/2 tsp
Garam Masala-1 tsp
Red Chili powder or paprika-1 tsp
Green Chili-2 seeded and chopped
Salt- to taste
Water-1 cup
Fresh Coriander-to garnish
Oil-3-4 tbsp
Instructions
In a skillet heat the oil.
Add the chopped onion and saute on medium heat until golden.
Add the ginger and garlic.
Add the pureed tomato along with all the spices and the green chili
Continue to cook until you see oil separating from the sides.
Add water and bring to a boil.Add salt and check the seasonings.
Reduce the heat and add the Shrimp.
Cook for about 5-6 minutes until Shrimp is cooked.
Mix well and garnish with fresh coriander.
Serve hot with Rice or Naan!
http://www.sonisfood.com/2013/09/masala-shrimp.html
www.sonisfood.com