Today I've got for you these delicious eyeballs made of Mozzarella Balls and Pimento Stuffed Olives.These are served on some Homemade Marinara Sauce for a tasty appetizer for Halloween.The inspiration came from here and I thought it was a great way to serve mozzarella balls and much more fun for the kids too!I used Pimento stuffed olives and used my 1/4 tsp stainless steel measuring spoon to scoop a small portion of the mozzarella balls just enough to fit the olives.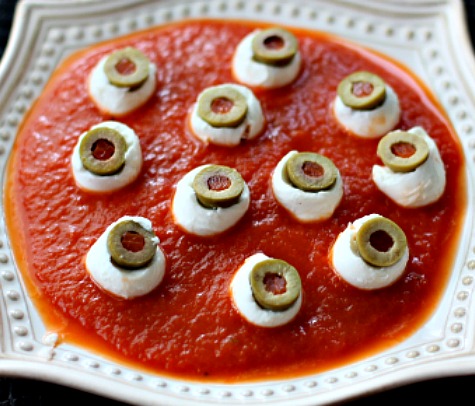 I served these eyeballs with my home made marinara sauce that's a weekly staple in my house.Its super easy,has tons of flavor and makes my life much easier.I typically make a jar of this sauce and keep it in my refrigerator to be used all week for our meals, kids lunches,soups etc etc.Way better than the store bought stuff any day.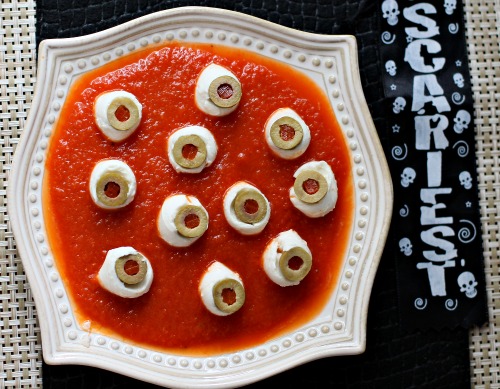 Mozzarella Eyeballs for Halloween!
Ingredients
For the Mozzarella Eyeballs

Small Fresh Mozzarella Balls-15
Pimento Stuffed Olives-8
Measuring spoon
Marinara Sauce-1 cup

Homemade Marinara Sauce

Onion-1 large chopped
Garlic-3 Cloves crushed
Carrot-2 peeled and chopped
Celery-2 stalks chopped
28 oz can of Crushed Tomatoes
Dried Oregano-2 tsp
Salt-to taste
Extra Virgin Olive Oil-3 Tbsp
Instructions
Marinara Sauce

In a pot heat the olive oil and add the onions.Saute until transparent.
Add garlic,salt and pepper.
Add the veggies and saute for about a minute.
Add the crushed tomatoes,oregano,salt and bring to a boil.
Reduce the heat,cover and cook until veggies are tender.
Add a little water if too thick.Check the seasonings.
Puree the sauce in a blender once its cool.
Transfer into a jar to be used in your pasta,soups etc.It stays good for upto a week.

Mozzarella Eyeballs

Using a 1/4 tsp measuring spoon scoop out the top part of the mozzarella balls and and slice a little bit from the bottom to make it stand.
Slice each pimento stuffed olive into half and insert each half into the mozzarella balls to resemble eyeballs.Press with your hand.
Spread the marinara sauce at the bottom of your serving plate and arrange the eyeballs over it.Enjoy.
http://www.sonisfood.com/2013/10/mozzarella-eyeballs-for-halloween.html
www.sonisfood.com