Cookies are a universal treat.And cookies with a chewy texture are a welcome treat in my family.Add chocolate to that and its some serious pleasure.
Seriously,who doesn't like chocolate?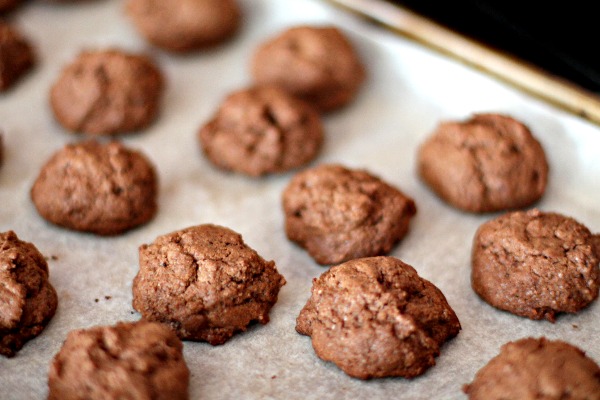 The cookies I've got for you today are the easiest cookies you'll ever bake.All you need is some really good Cocoa and I've used Cadbury's Bournville Cocoa that I purchased from Cadbury World in the UK during our last visit and I have to tell you that the aroma and the flavor is just amazing.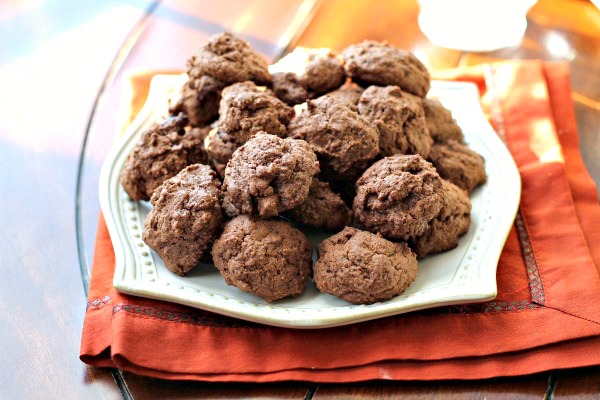 The cookies are sweet, sightly chewy, slightly crispy around the edges with a rich chocolate flavor coming through.They are really really good.So good.They satisfy your craving like none other and I must advice you to make a big batch since they will disappear in no time!These are also great as homemade Holiday gifts for your loved ones!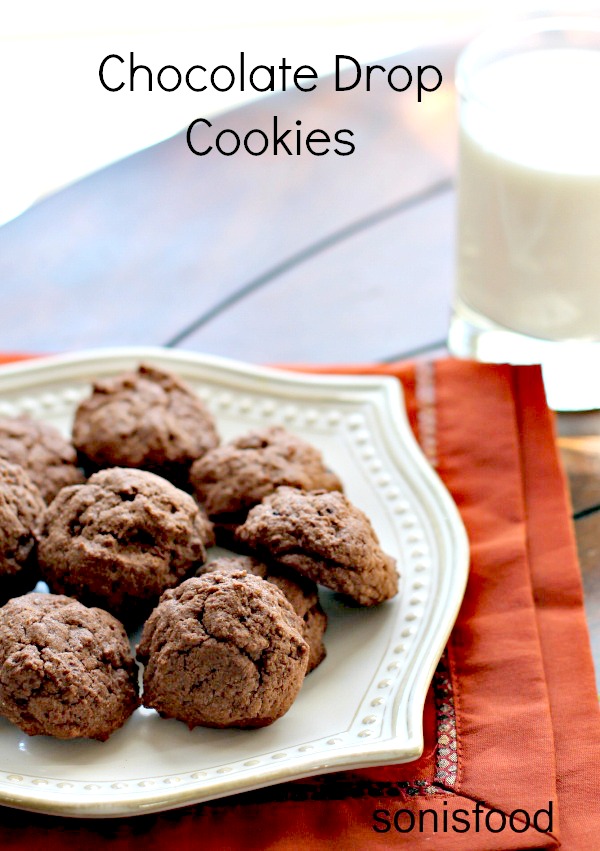 Find the original recipe over here.I have omitted the nuts and granulated sugar and cut the recipe in half.Makes about 25-30 cookies.
Chocolate Drop Cookies
Ingredients
All purpose flour-1 cup
Unsweetened Cocoa (I used Cadbury's)-1/4 cup
Baking Powder-1/2 tsp
Salt-1/8 tsp
Unsalted Butter softened 4 Ounces-1 stick
Light brown sugar-1/2 cup+1/3 cup
Large Egg-1
Vanilla Extract-1/2 tsp
Instructions
Preheat the oven to 350 degrees.
Line a baking sheet with parchment paper.
Sift together the flour, cocoa, baking powder, and salt. Keep aside.
Cream butter and sugars until well mixed. Beat in the egg and vanilla.
On low speed, beat in flour mixture a little at a time, until well blended and smooth.
Drop chocolate cookie dough onto your parchment lined baking sheets by rounded tablespoons, about 2 inches apart.
Bake for about 12-13 mins until they are barely set.Don't over bake.
Cool pan on rack for about 5 minutes.
Transfer chocolate cookies to rack to cool completely. Enjoy!
www.sonisfood.com
If you enjoyed this article,why not sign up to get email updates (It's Free)!