I'm so excited for today's recipe.It involves one of my favorite vegetables, Broccoli!And I'm also excited today because I'm guest posting over at my friend Erin's blog Our Table for Seven!
Erin is an amazing blogger with some gorgeous recipes up her sleeve!Be it her Baked Pierogi Casserole or her mouth watering Chocolate Peanut Butter Dream Brownies ,she never fails to capture your attention.
The recipe I made for her is an easy Curry Roasted Broccoli that uses only five ingredients and tastes delicious!Broccoli is by far my kids' favorite vegetable and they love to see it on their plates.I try to incorporate it as much as I can into our meals for its health benefits.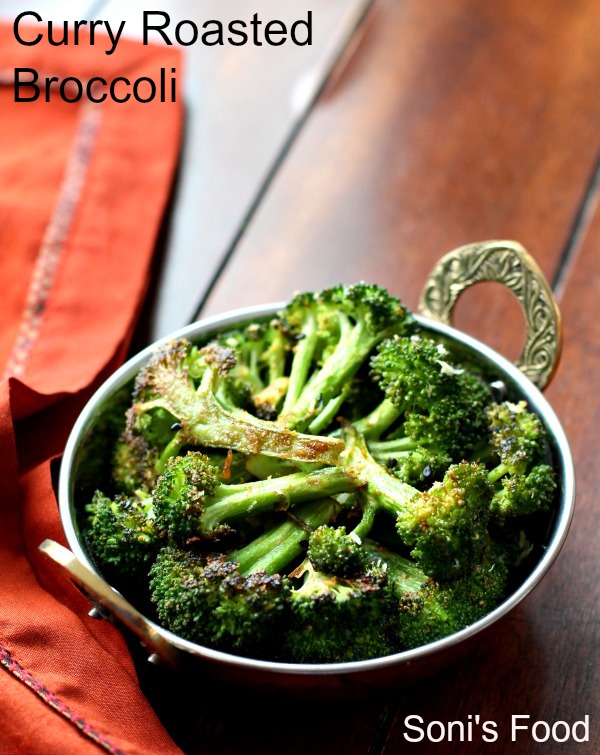 Ingredients
Broccoli florets-3 cups
Curry Powder-1 tsp
Ground Ginger-1/2 tsp
Salt- to taste
Oil-2 tbsp
Instructions
Preheat the oven to 375 degrees.
On an oiled baking sheet mix all the ingredients and drizzle some oil all over.
Bake for about 13-14 minutes or until you see the broccoli starting to turn slightly golden round the edges.
http://www.sonisfood.com/2013/12/curry-roasted-broccoli.html
www.sonisfood.com