Temperatures dropping yet again.Seems like there is no respite from this brutal cold even this week.The one thing that we look forward to during this weather is socializing with our friends.The kids have fun and so do we.And with the big Game on this weekend,I'm looking forward to getting together with our friends and enjoying the day.I have to admit that for me it'll still be all about the food and less about the game.
The dish I've got for you is an old favorite with an Indian twist.I'm not talking wings here,but Stuffed Mushrooms.I love them to bits and this time round I played with some shredded cabbage that I bought from Trader Joe's.You might be wondering why Cabbage?Well, Cabbage to me is perfect as a filling in many ways.I love the crunch,the lovely texture and it pretty much takes up any flavor that's added to it.Shredded Cabbage is also used in Pot Stickers,Vegetable Spring Rolls and rolled up into balls in Indian Koftas.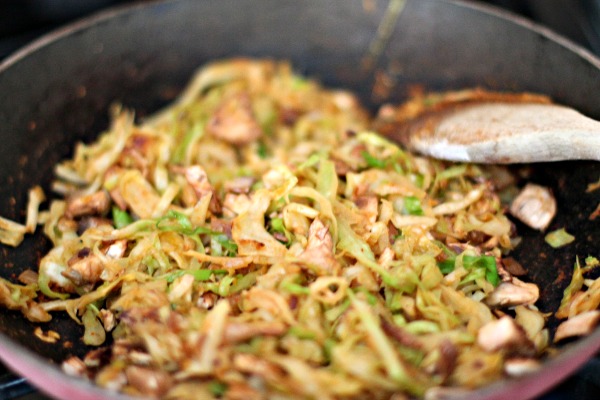 The addition of Indian spices along with the ginger compliments the cabbage and it just seems perfect with the meaty mushrooms.And if that isn't enough, its also super healthy and great as an appetizer or even a side dish with your entree.I've used Portobello Mushrooms,but you could also use Cremini for this dish.Enjoy with friends or on your own.This dish will cheer you up even if the weather doesn't.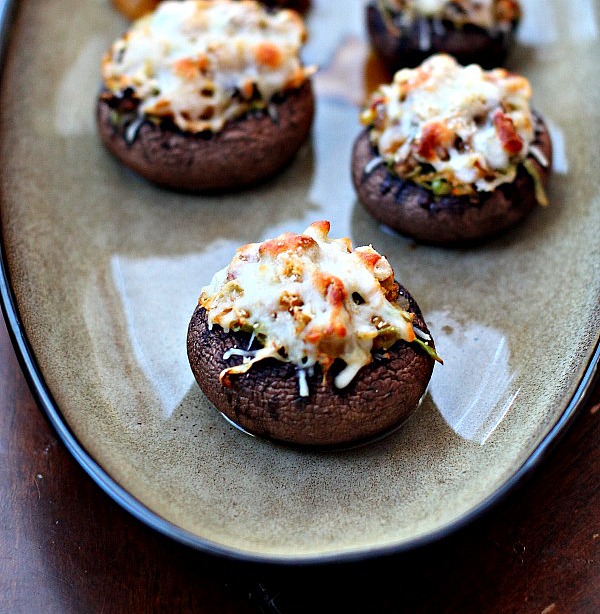 Cabbage Stuffed Mushrooms-Indian Inspired
Ingredients
Portabello Mushrooms-6
Shredded Cabbage-2 cups
Onion-1 small
Ginger-1/2 inch crushed
Ground cumin-1/2 tsp
Ground coriander-1/2 tsp
Salt-to tatste
Shredded Mozzarella
Bread Crumbs
Olive Oil-2 tbsp
Instructions
Preheat the oven to 400 degrees.
With a sharp knife cut out the mushroom stems.Chop them into small pieces.
In a skillet heat the oil and saute the onions until translucent.
Add the ginger and saute for a minute.Add the spices and mix well for two-three minutes on medium heat until aromatic.
Add the mushroom stems.Saute for a bit.
Add the cabbage and salt.Cook for about 4-5 minutes or until still crunchy but cooked enough.
Stuff about a tbsp or two of the cabbage mixture into each Mushroom,press gently.Cover with some shredded mozzarella.
Sprinkle some olive oil mixed with bread crumbs and bake on a greased baking tray for about 15-18 minutes until golden and the bottom of the mushrooms are dry.
http://www.sonisfood.com/2014/01/cabbage-stuffed-mushrooms-indian-inspired.html
www.sonisfood.com