Cooking with wine is a great idea to enhance the flavor pattern of any dish.It adds that extra zing in your recipes and makes them super delicious.My excitement knew no bounds when Gallo Family Vineyards sent me their amazing Hearty Burgundy to mark its 50th Birthday Celebration.To commemorate this milestone Gallo Family Vineyards has produced a limited edition "Hearty Burgundy" which has a celebratory 50th Anniversary Label and a throwback wine blended to match as closely possible to the original Hearty Burgundy blend.What an honor to be asked to create something to mark this special occasion. Thankyou Gallo Family Vineyards.
Hearty Burgundy has been around for 50 years now.Being at the epicenter of "wine boom" in the early 70's it has created a special place in the family tables around America and has been called "the best wine in the country" by the noted Wine Critic Robert Blazer.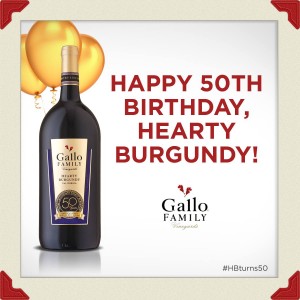 Flavor wise, it combines mouth watering richness with flavors ranging from dark berry to red plum.With its well balanced fruit and subtle hints of oak,this medium bodied,dry wine pairs well with bold and layered flavors of chili,Italian meat sauce and grilled sausages.Its by far my favorite!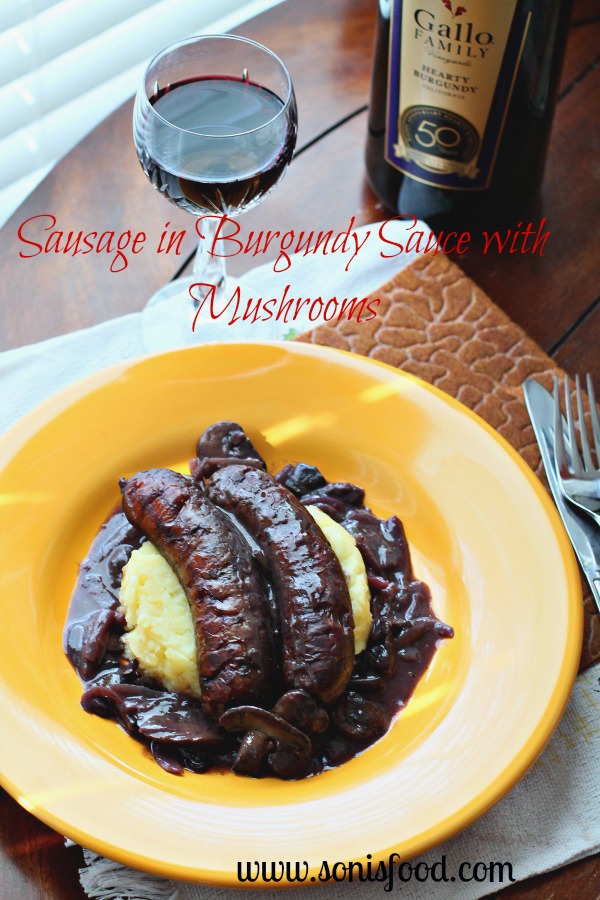 Its also the perfect wine for entertaining.Which brings us to my recipe.Since it combines well with Sausages,I've tried to recreate one of my favorite dish Bangers and Mash with a twist.It took me back to the time I spent in the UK.Pub lunches was a norm every weekend and I couldn't wait to dig in to my favorite grilled sausages served on a bed of creamy mashed potatoes along with some gravy.The twist is the addition of this amazing Hearty Burgundy to make a sauce along with some garlic and mushrooms.I used hot Italian sausage that has garlic, fennel and chili flakes and the flavors combine beautifully.Its great for a crowd, since you can make your sauce and mashed potatoes ahead of time.Just grill your sausages and add them into the sauce to combine.Its comforting, its super easy and extremely delicious!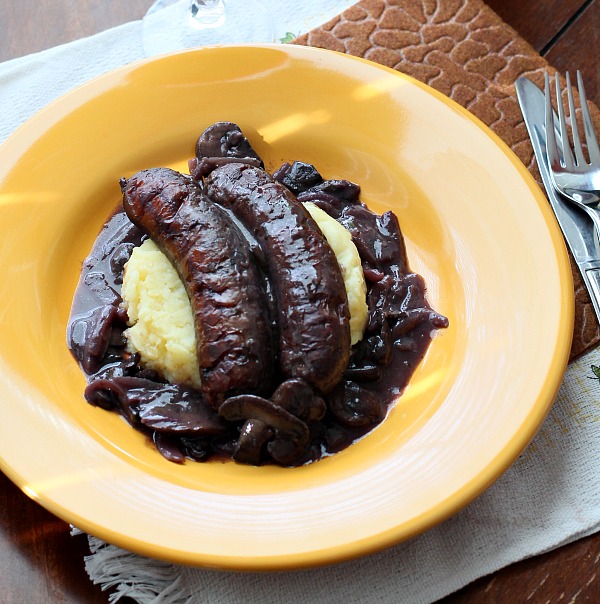 Sausage in Burgundy Sauce with Mushrooms #SundaySupper #hbturns50
Ingredients
Hot Italian Sausage-4 links
Onion small-1 chopped
Garlic crushed-2 cloves
Baby Bella Mushrooms-2 cups sliced
GFV Hearty Burgundy-1 1/2 Cups
Chicken Stock-1 cup
Salt- to taste
pepper
Extra Virgin Olive Oil-2 tbsp
Butter-2 tbsp
All Purpose Flour-1 tbsp
Instructions
Grill the sausages on 375 degrees for about 15 minutes or until golden.
In a skillet heat oil and add onions.
Saute for a minute and add garlic.Saute for another minute and add the flour.Mix well.
Add the stock and red wine.Bring to a boil, reduce the heat, cover and cook on medium for 15-20 minutes.
In a separate skillet heat some olive oil and add the mushrooms.Saute until golden.Add them into the wine sauce.Add salt and pepper.Check the seasonings.
Add the sausages into the sauce and mix well.

To serve

Serve the sausages on a bed of your favorite mashed potato and pour the sauce all around.Enjoy!
http://www.sonisfood.com/2014/02/sausage-in-burgundy-sauce-with-mushrooms-sundaysupper-hbturns50.html
www.sonisfood.com
No gathering is complete without a good wine and Hearty Burgundy makes every gathering special, since its these enjoyable moments with our loved ones that we cherish for years to come.So,the next time you entertain, try opening a "Hearty Burgundy" and create everlasting memories.
For more information you can check out Gallo Family Wineyard's website, or connect with them on Twitter or Facebook.You can use their Store locator to find your nearest store to purchase your favorite wine.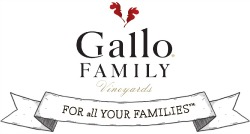 Scroll down to see what recipes our Sunday Supper contributors have come up with using 'Hearty Burgundy!
Join the #SundaySupper conversation on twitter every Sunday! We tweet throughout the day and share recipes from all over the world. Our weekly chat starts at 7:00 pm ET. Follow the #SundaySupper hashtag and remember to include it in your tweets to join in the chat. Check out our #SundaySupper Pinterest board for more fabulous recipes and food photos. Would you like to join the Sunday Supper Movement? It's easy! You can sign up by clicking here: Sunday Supper Movement.
Disclosure:This post is sponsored by Gallo Family Vineyards but all opinions are my own.