I have one confession to make.I've never baked Bread from scratch.Nope.Never.Ever.
But I absolutely love Breads.Brioche would probably be my favorite.I love the rich taste and that slightly sweet eggy flavor.In my opinion the perfect bread for my favorite dessert, Bread Pudding.I was very excited when Tribe-A-Dozen sent me their three amazing Hallah or Challah Bread Mixes to review and also agreed to give away a similar set to one of my lucky readers!!!Scroll down to the bottom to enter my giveaway!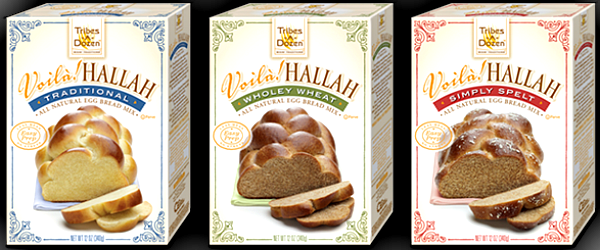 Tribes-A-Dozen is about wholesome, all natural, kosher hallah (or challah bread) – -the classic egg bread – – also referred to as Barches, Brioche, Kalács, Osterbrot, or, simply, Twisted Bread.
In addition, these mixes are made using Organic Kosher ingredients so you can be rest assured that its good for the whole family.I now know that there's a great alternative to buying store bought bread that is super easy and tastes absolutely delicious!
Tribes-A-Dozen manufactures a unique kosher (OU) line of three Voilà! Hallah Egg Bread Mixes –Simply Spelt, Traditional, and Wholey Wheat.
Traditional Egg Bread Mix-For those asking "what is hallah (challah) bread," their Traditional is the classic egg bread baked at home for generations around the world. This blend of carefully selected premium ingredients bakes into a fragrant Hallah, a nourishment for the soul as much as the body.
Ingredients:Unbleached unenriched wheat flour, unbleached and enriched wheat flour (niacin, iron, thiamine, riboflavin, folic acid, malted barley flour), turbinado sugar, sea salt, and organic flavor.
MSRP: $5.99
Wholey Wheat Egg Bread Mix-Nourishing and delicious,their Wholey Wheat is made from premium organic whole grain wheat flour. It bakes into a honey infused Hallah loaf rich with old-world authenticity.
Ingredients:Organic whole grain wheat flour, brown sugar, turbinado sugar, sea salt, and organic flavor.
MSRP: $5.99
Simply Spelt Egg Bread Mix-Their Simply Spelt is made from organic ancient whole grain Spelt flour. Spelt's natural high content of fiber, vitamins, and minerals – combined with its unique, subtly sweet, nutty flavor — makes their Simply Spelt nutritious and delicious.
Ingredients:Organic whole grain spelt flour, brown sugar, turbinado sugar, sea salt, and organic flavor.
MRSP: $6.99
For more information on their products and store availability click  here.
Hallah has deep spiritual meaning in the Jewish faith, but traditional egg bread is enjoyed in many cultures and embraced by Kosher and non-Kosher households alike. Hallah, or egg bread, is perfectly enjoyed on its own, as sandwich bread, or as the ultimate base for French toast or bread pudding.Tribes-A-Dozen believes in baking the kind of bread your great-grandmother used to make!Whether you spell it challah bread or hallah bread, you will love this recipe.
So, what did I do?Finally I baked my own Bread using their Traditional Bread Mix and ate it too!!I loved how easy the whole process was.The mix included the yeast, and the flour mix.All that I had to do was follow the instructions and bake!I especially loved the braiding part!Something I've never done before :).It came out looking so professional and I was so proud :).Plus who can resist a warm freshly baked bread out of the oven.It had the perfect texture, so moist, soft and oh so melt-in-your-mouth delicious.My kids wanted it for all of their three meals!Really.Good.Stuff.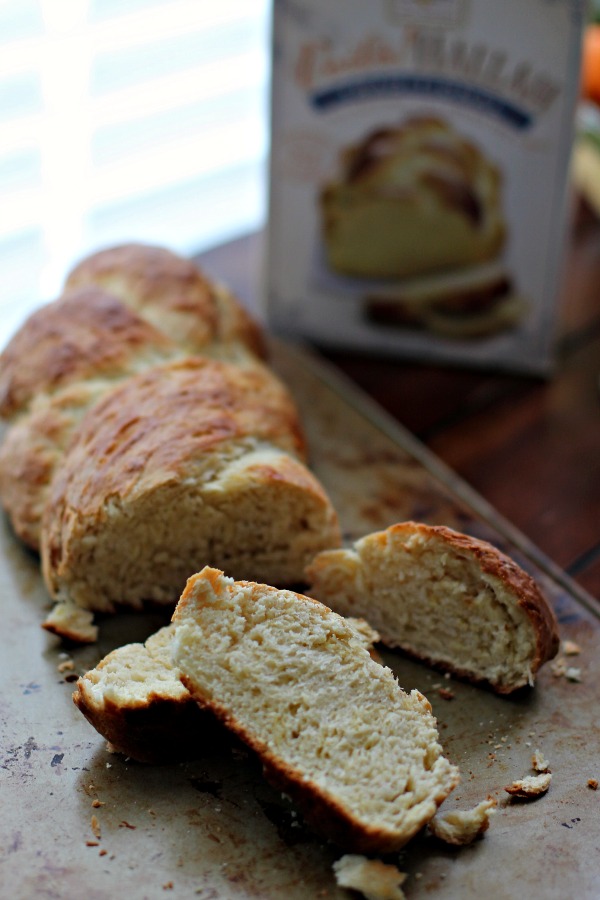 Not only that, I used the leftover bread to make an insanley delicious Bread Pudding!The recipe will be posted very soon :).
Thankyou Tribes-A-Dozen.
For more information about their products and availability visit their website.
Now for the exciting part!!
One of you lucky readers can win all their Three Bread Mixes by entering my Giveaway!!!Please note that this giveaway is only open to US residents!The more entries you get,the better your chances of winning!!
Disclosure-Tribes-A-Dozen provided me with the samples to review and all opinions are my own.