If there's one cuisine that's always intrigued me,it has to be Kashmiri cuisine.Its amazing how with just a few spices and yoghurt, you can create some amazing recipes that's to die for.I was introduced to Kashmiri food through my brother who has friends from the state of Jammu and Kashmir in India.Being a foodie just like the rest of us he has learnt to cook some of those amazing dishes that he enjoyed at his friends' .When I recently visited India he made the most amazing Mutton Rogan Josh, and the taste still lingers in my mouth.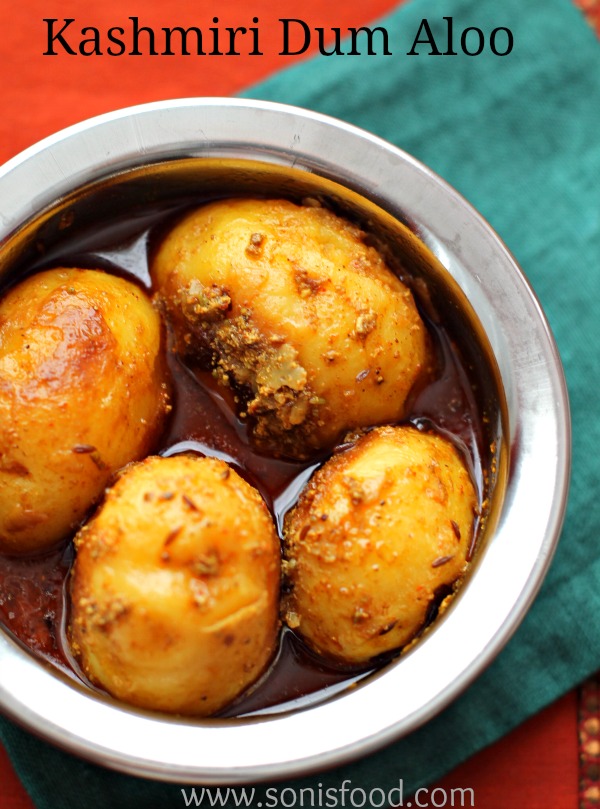 The recipe I have for you today is a Kashmiri Potato dish called Dum Aloo and involves cooking whole potatoes in some aromatic spices like aniseed and cumin along with some yoghurt.It takes some effort but the end result is out of this world.Its in a way easier than any other Indian preparation since the recipe does not call for onion or garlic.But you do have to patiently stir throughout for the sauce to come together. Enjoy.
Kashmiri Dum Aloo (Potatoes cooked in aromatic spices-an authentic Kashmiri dish)
Ingredients
Potatoes medium (same size)-1 lb
Cumin Seeds-1 tsp
Cloves-3
Asafoetida-1 pinch
Red chili powder-2 tsp (or a mix of 1 tsp kashmiri chili powder and 1 tsp red chili powder)
Turmeric-1/2 tsp
Ground ginger-1 tsp
Aniseed powder-1 tsp
Yoghurt-1/2 cup
Garam masala-1 tsp
Powder 1 black cardamom,1/2 inch cinnamon and black pepper-1 tsp
Salt- to taste
Mustard Oil-(1/2 cup to fry potatoes plus cooking)
Instructions
Boil the potatoes until tender.Once cool peel and prick the potatoes all over using a tootpick.Keep aside.
Heat some oil in a wok or a deep dish and fry the potatoes until golden on all sides.
Strain with a slotted spoon and keep aside in a tray.
Add about 1/4 cup of oil back into the wok and add cloves,cumin and asefoetida.
Stir, lower the heat and slowly add the red chili and turmeric along with a tbsp of water.
Make sure to not burn the chili and turmeric.
Stir till the oil separates from the sides and mixes in with the chili/turmeric about 3-4 minutes stirring continously.
Beat the yoghurt with a little bit of water to smooth.Add in the beaten yoghurt into the mix while still stirring.
Add the ground aniseed and ginger and conitnue to cook constantly stirring until you see oil separating.
Add the potatoes and mix all over so that they get coated in the mix.Add just enough water to cover the potatoes.
Cook on low heat until oil separates and the sauce thickens.Add a little water if too dry.
Add garam masala and the cardamom spice mix.Adjust the seasonings.
Serve hot with your favorite bread or rice.
http://www.sonisfood.com/2014/07/kashmiri-dum-aloo-potatoes-cooked-in-aromatic-spices-an-authentic-kashmiri-dish.html
www.sonisfood.com