Sweet Chutneys are an important condiment in Indian cuisine.In recent years they've reserved their place in the global arena too, satisfying the sweet salty cravings of many.Who doesn't love a good mango chutney!The sticky shiny texture and that sweet aroma is enough to make you start craving for a spoon instantly.Indian chutneys are made in various different ways depending on the region you are from.Mom always makes it using Panch Phoran (Indian five spice) consisting of a mix of aromatic seeds like cumin,nigella,fennel,black mustard and fenugreek.The spice mix is easily available at your local Indian grocers.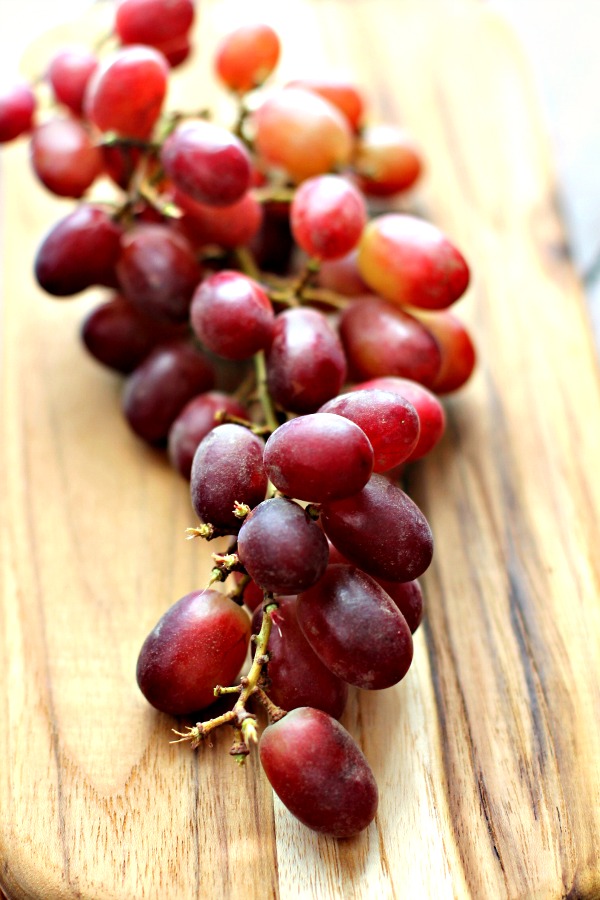 The recipe I have for you is a Red Grape Chutney that tastes as good as it looks.Its a great way to use up all those extra fruits lying around.You could use any fruit you desire to make your chutneys.Cranberry chutney is a firm favorite during Thanskgiving.The process is fairly simple as you only need a few ingredients to bring it all together.The whole process takes about 20 mins and you have a mouthwatering home-made chutney waiting to be devoured.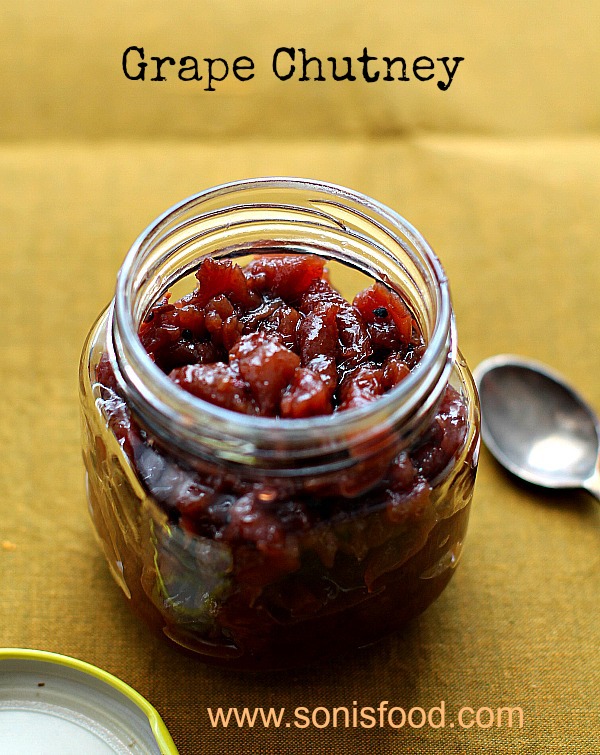 The dark color and the amazing flavors from the spices and the ginger is just pure joy.You can taste the smoky, salty, sweet all together.I love to spread it all over my toast for a delicious breakfast or a snack :).Enjoy!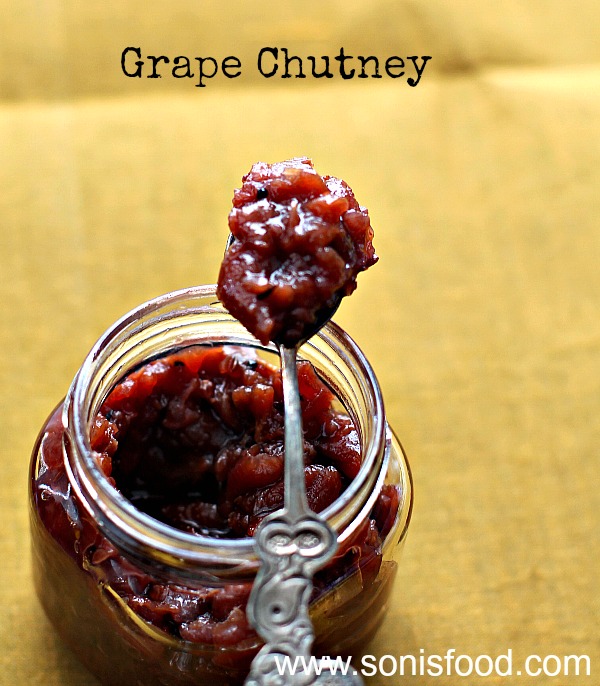 Ingredients
Red seedless grapes-2 cups
Panch Phoran (Indian five spice)-1 tsp
Fresh crushed ginger-1/2 inch
Brown sugar-1/2 cup
Oil-1 tbsp
Water-2-3 tbsp
Salt-1 tsp
Instructions
Wash the grapes and cut them in half.
In a pot heat the oil and add the panch phoran.
Once it crackles lower the heat and add the ginger.Stir for about half a minute.
Add the grapes,brown sugar,salt and water.
Cover and cook on medium heat for about 15-20 minutes or until the grapes are fully cooked.
Mash it all up with a masher.
Taste the seasonings.
Allow to cool.Store in the referigerator for a week.Enjoy.
http://www.sonisfood.com/2014/10/grape-chutney.html
www.sonisfood.com