With temperatures dropping, we should now be gearing up for winter knocking on our doors.The beauty of these cooler temperatures is that we get to enjoy warm foods either sitting by the fireplace or all wrapped up in our blankets.I really look forward to my Soups,casseroles,curries,warm one pot meals during these cold months.Talking about one pot meals, the recipe I have for you today will blow your mind.Its a Pulao or Pilaf flavored with aromatic spices, using some chicken tenders, Basmati rice and Chicken Stock.And what would I ever do without Chicken Stock.Call me obsessed but I use it in almost anything I cook during Autumn and Winter.The result is a delicious and flavorful meal for the whole family in less than half the time and the effort.A total win win for us busy moms!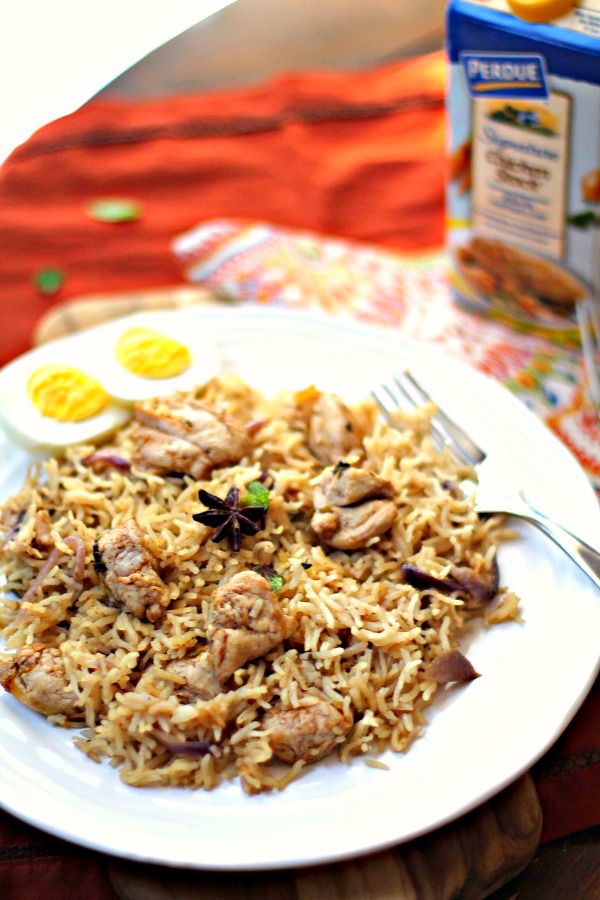 Among the brands I trust,PERDUE® stands out for me since their delicious Signature Chicken Stock is always fresh and needs refrigeration, unlike the packaged stock that stays in your pantry.Which also means that there's no added preservatives and it has to be used by a certain timeframe.As a parent its imperative for me to use products that are healthy for my family and since PERDUE® Signature Chicken Stock is made with antibiotic free chicken and free of artificial flavors it has become our favorite.What's more, it even comes in a convenient packaging with a side window so you can see how much you're left with and a ready to pour spout.You can find Perdue Signature Chicken Stock in the refrigerated section, right next to fresh-tasting PERDUE® Chicken in your grocery stores.PERDUE® was kind enough to send me their Signature Chicken Stock and I loved using it in my recipe.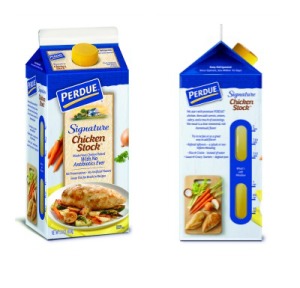 My Saffron Chicken Pulao or Pilaf is an easy one pot meal that tastes as if you've spent hours in the kitchen but it only requires 30 mins to cook!The flavors from the spices and saffron are unbelievable.Saffron is an essential part of this dish and gives it a lovely golden yellow color and its unique sweetness.The aroma of the dish is similar to cooking a Chicken Biryani and you instantly start feeling hungry!Plus who doesn't love a chicken and rice dish!The PERDUE® Signature Chicken Stock adds its own richness and gives it that long slow cooked flavor.Its a meal perfect for these colder days when you crave warm comforting foods.I've used a combination of whole and some ground spices that are easily available in the stores.You can also add nuts or dried fruits although I've kept it fairly simple.I also like to use mint in my rice dishes and I love the sweet flavor it imparts to the dish.
Start by heating 3 tbsp of butter or ghee.Add a bay leaf,1 star anise, 1 cinnamon stick,3 cloves,6 peppercorns and 4 cardamom pods.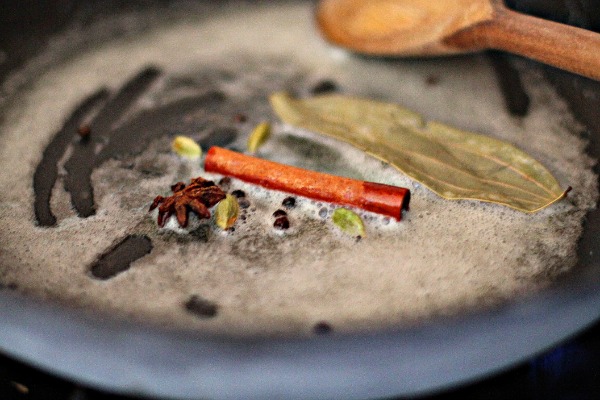 Add the sliced onions and saute for a minute.Add a tbsp of crushed ginger and garlic into the pan.Stir and cook for about 2 minutes.Add 1 tsp of garam masala and 1/2 tsp of red chilli powder.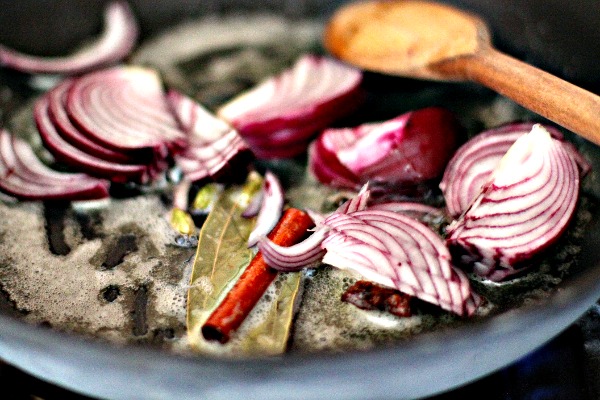 Add the cubed Chicken tenders along with 2 tbsp of yoghurt.Mix all together.Add some salt.
Add 2 cups of basmati rice into the pan and stir to mix.Mix 2 tsp of saffron strands into a cup of warm milk and let it soak for a few minutes.Add the milk mixture into the pan along with 2  1/2 cups of PERDUE® Signature Chicken Stock.Mix well.Throw in some chopped mint.Add salt.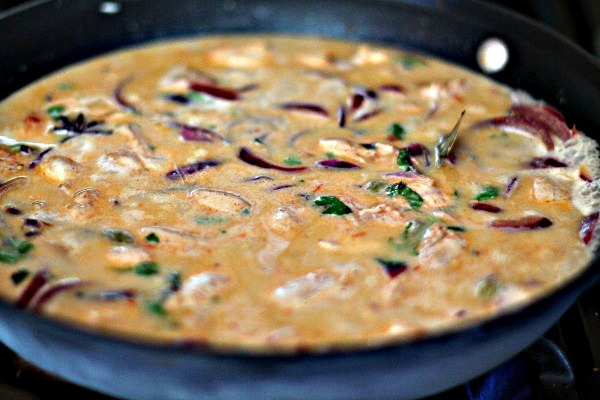 Bring to a boil, reduce the heat, cover and cook for about 20-25 minutes until the liquid is absorbed and the rice is cooked.Serve hot with some boiled eggs and a salad or Cucumber Raita.Enjoy!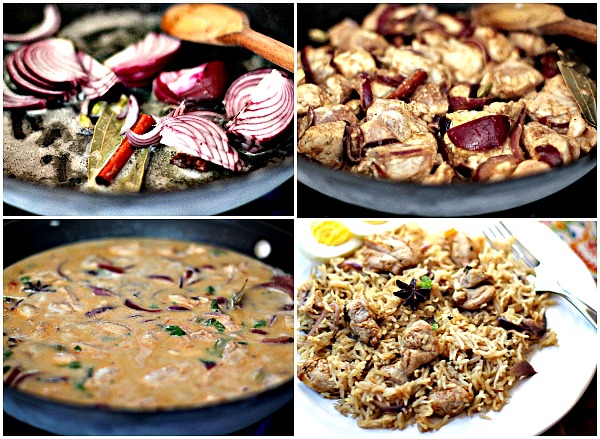 Saffron Chicken Pulao/Pilaf using #Perdue #WeekdaySupper
Ingredients
1 lb Chicken Tenders cut into cubes
2 Cups of Basmati Rice
1 Bay Leaf
4 Cardamom Pods
6 Peppercorns
3 Cloves
1 Star Anise
1 Large Onion
1 tbsp Crushed Ginger
1 tbsp Crushed Garlic
1 tsp Garam Masala
1 tsp Red Chili Powder
2 tsp Saffron Strands
2 tbsp Yoghurt
1 cup milk
2 1/2 Cups Perdue Signature Chicken Stock
few mint leaves chopped
Salt-to taste
Butter-3 tbsp
Instructions
Warm up the milk and add the saffron strands.Let it soak.
In a deep pan heat the butter and add the bay leaf,cardamom,cinnamon,cloves and peppercorns.
Stir for a minute and add sliced onions and saute for another minute.Add the ginger and garlic followed by garam masala and chili powder.
Add the chicken pieces into the pan along with the yoghurt.
Add rice into the mix.
Add the saffron milk, chicken stock, mint leaves and salt.
Bring to a boil on high, cover and lower the heat.
Cook for about 20-25 minutes until the rice and chicken are cooked and the liquid has been absorbed.
Serve hot with boiled eggs, salad and raita.
Enjoy!
http://www.sonisfood.com/2014/11/saffron-chicken-pulaopilaf-using-perduechicken-weekdaysupper.html
www.sonisfood.com
A good quality Chicken Stock makes a ton of difference in your recipe.And PERDUE® fits the bill just perfectly.I so love this product and I'm sure you will too.You can find all the information regarding PERDUE® Signature Chicken stock over here http://www.perduechickenstock.com/
You can also join the PERDUE® Crew to get some pretty sweet rewards and coupons by clicking this link http://www.perduecrew.com/.For product availablilty, recipe and kitchen tips visit their website http://www.perdue.com/.You can follow them on Facebook, Pinterest and  Twitter.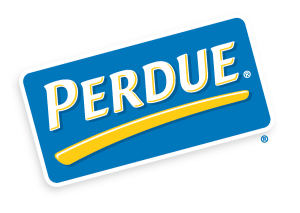 Perdue is working with #SundaySupper for a month long campaign highlighting their new PERDUE® Signature Chicken Stock, so please be sure to follow the #WeekdaySupper Pinterest board to see all the delicious recipe ideas using this amazing stock.
Check out these wonderful recipes from our other Weekday Supper bloggers!
11/10/14 – Monday – Hot & Sweet Cranberry Curry Chicken by Sue's Nutrition Buzz
11/11/14 – Tuesday – Creamy Chicken Pasta with Leeks and Shallots by A Kitchen Hoor's Adventures
11/12/14 – Wednesday – 30-Minute Bistro Chicken by Healthy Delicious
11/13/14 – Thursday – 30 Minute Chicken Pho by I'm Not the Nanny
11/14/14 – Friday – Saffron Chicken Pulao/Pilaf by Soni's Food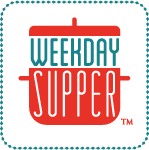 Disclosure:I received PERDUE® Signature Chicken Stock from Perdue in conjunction with a sponsored social media campaign through Sunday Supper LLC. All opinions are my own.