Its hard for me to walk past a cookbook in a book store without stopping to take a look while flipping through the pages.And if I happen to like it, then it gets added to my already expanding collection in my kitchen.How can you not be mesmerized by the tantalising recipes and stories in each cookbook and the knowledge you derive about your favorite cuisine.Right from the tools required to make the dishes,to the handy tips that's always welcome while trying out the recipes, its always a great joy to own a cookbook and try recipes from it.I'm excited today to be reviewing Molly Gilbert's cookbook Sheet Pan Suppers!Family recipes that you can bake in a Sheetpan?Who wouldn't want that!!Less dishes to wash and and less mess.Its a godsend for anyone with a busy lifestyle and I'm in love with the book.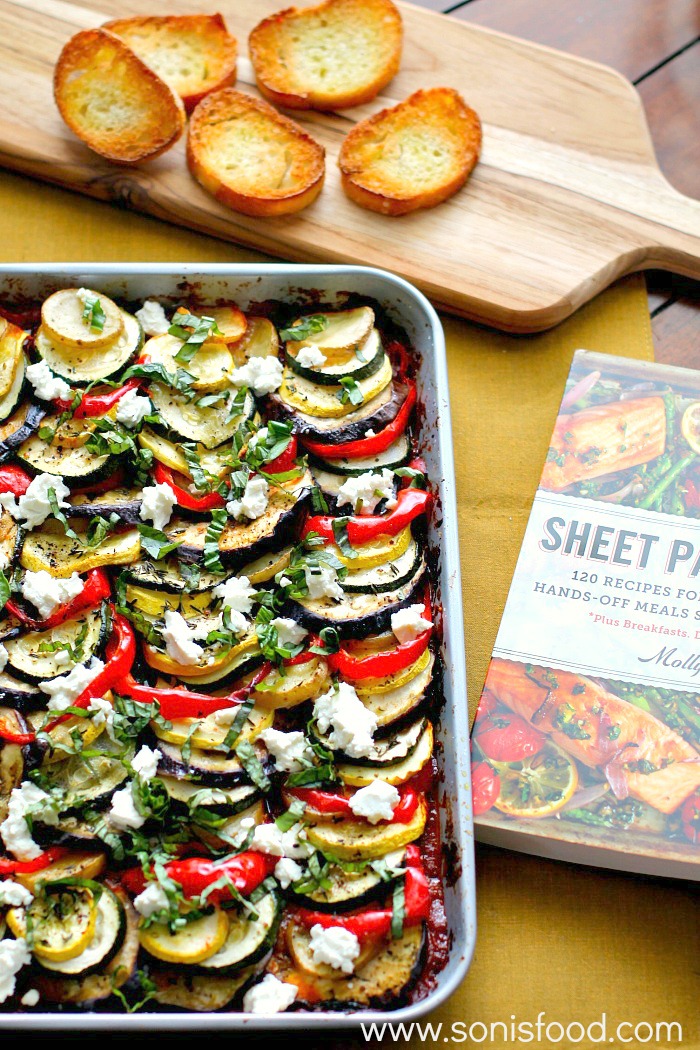 Sheet Pan Suppers has 120 easy and delicious recipes right from mouth watering appetizers like Baked Feta and Chunky Mango Chutney (a must try) to elegant entree dishes like Salmon with Roasted Cucumber and Dilled Yoghurt sauce to a Serve-Withs section that even has a Spring Rice Pilaf (in a sheet pan!) and desserts like Fresh Brioche Cinnamon Roll!
Drooling yet?
Molly is a graduate of the French Culinary Institute, a fellow food blogger at Dunk & Crumble PLUS a recipe tester in the kitchen of Saveur.Her cookbook has something for everyone and I love her handy tips and hints that's super helpful.The recipes are fresh and make use of ingredients in a very creative way that makes for some very elegant dishes.Its what I love the most about this book.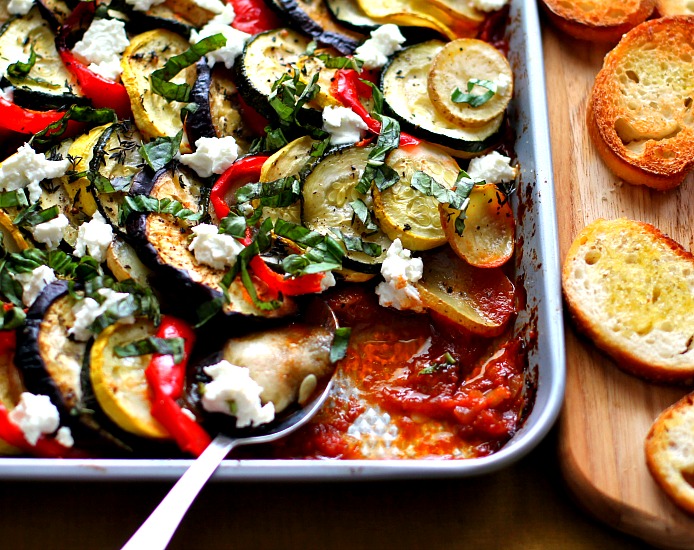 The recipe that caught my eye as I was flipping the pages is a classic that I've been wanting to try for a long time.Its a Hearty Ratatouille with Goat's Cheese and I absolutely loved how stunning it looked and how equally delicious it tasted!A healthy dish with colorful vegetables that's so super easy and the addition of simple herbs like thyme and basil just works beautifully.The vegetables are perfectly soft and and you can taste the lovely tomato sauce underneath in every scoop.The goat's cheese gives it that smooth richness that somehow rounds up the overall balance of flavors along with the vegetables and even my kids (7 and 11) loved it and went for seconds!They even helped layer the veggies with so much enthusiasm :). Its a new family favorite.I served it with some toasted French Baguette and it was one winner dinner!
Hearty Ratatouille with Goat's Cheese #WeekdaySupper #Giveaway
Ingredients
Olive Oil Cooking Spray
1 can (12 ounces) tomato puree
3 cloves garlic thinly sliced
1/2 medium yellow onion finely chopped
Kosher salt and freshly ground pepper
2 tbsp unsalted butter, cut into small cubes
1 large red bell pepper
1 large Chinese Eggplant or other long skinny eggplant
1 large zucchini
1 large yellow squash
3-4 smallish yukon gold potatoes unpeeled
2 tbsp extra virgin olive oil
1 tsp chopped fresh thyme
4 ounces soft goat's cheese
1 tbsp roughy chopped basil leaves
Crusty Bread for serving
Instructions
Preheat the oven to 375 degrees with one rack about 4 inches from the broiler and one rack in the center.
Mist a sheet pan with cooking spray
Dump the tomato puree onto the prepared sheet pan.Add the garlic, onion, salt and pepper.Use a rubber spatula to spred evenly.Drop the butter cubes all over.
Cut the top off the pepper, pull out the seeds.Take a sharp knife and slice into 1/8-1/4 of an inch rounds and slice the rounds into thirds.
Trim the ends of the eggplant, zucchini and squash.Slice each into 1/8-1/4 inch.
Slice the potatoes the same size too.
Carefully arrange the vegetables over the tomato base overlapping them in a pattern going from oe short end to the other.
Drizzle the veggies with olive oil.Sprinkle with thyme and some salt and pepper.
Bake the ratatouille on the center rack until the vegetables are tender and the tomato sauce is bubbling up the edges, 30-40 mins
Remove the pan from the oven and turn the oven to broil.
Break the goats cheese into large crumbles and scatter evenly over the ratatouille.Broil to gently melt the cheese about 1 min.
Sprinkle the chopped basil and serve warm with crusty bread.
http://www.sonisfood.com/2015/05/hearty-ratatouille-with-goats-cheese-weekdaysupper-giveaway.html
www.sonisfood.com
The Giveaway!
All you have to do is leave a comment and let me know your favorite food to cook on a sheet pan. Entries will be assigned a number and the winner selected using Random.org. The winner will be notified by email. If the winner does not respond in 48 hours an alternate winner will be selected. Contest ends on Wednesday, May 16, 2015 at 11:59pm Eastern Time. Contest is only for United States residents, with a US shipping address, and over the age of 18. There are several more chances to win the cookbook on other Weekday Supper posts (see list below). Entrants can only win one cookbook via this Weekday Supper campaign.
This Giveaway is now closed.
MORE FABULOUS SHEET PAN SUPPER RECIPES: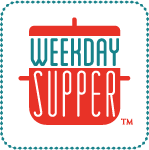 Molly Gilbert's Social Media Sites:
Facebook – Twitter – Instagram – Pinterest
Please check out the Sheet Pan Suppers Pinterest Board for more scrumptious sheet pan inspiration. And don't forget to order your own copy of Sheet Pan Suppers. You'll love it!
Would you like to learn a little more about Molly Gilbert? Check out this interview on the Sunday Supper website.
Disclaimer-This post is sponsored by Workman Publishing Company in conjunction with a social media campaign through Sunday Supper LLC. All opinions are my own.