Holidays are the time to indulge in delectable desserts like the one I have for you today.
If you're looking for an easy dessert that would undoubtedly be the star of the evening, then this one is for you.
If you're looking for last minute dessert ideas, then this for is for you.
If you're looking for a dessert that can be made a day ahead so as to save you time and effort on the day itself, then this one is for you.
If you love cake and custard and cream, then this one is for you.
If you're looking for a kid pleasing dessert, then this one is for you.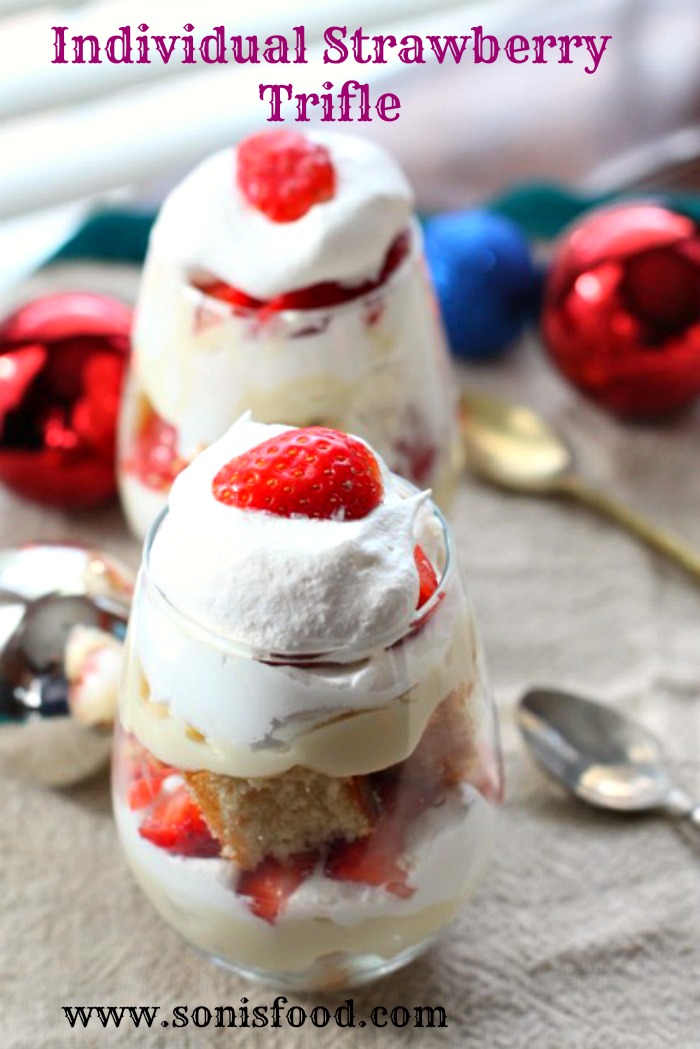 Trifle is my all time favorite dessert and I love making it during the holidays.The layers of cake,custard and cream is magical and the rave reviews you get for a dessert as easy as this makes it all the more worthwhile.I love strawberries in my trifle but you could use any fruit that works for you.I've made these in individual portions but you could use a big trifle dish too.I just find the individual portions cute during the holidays.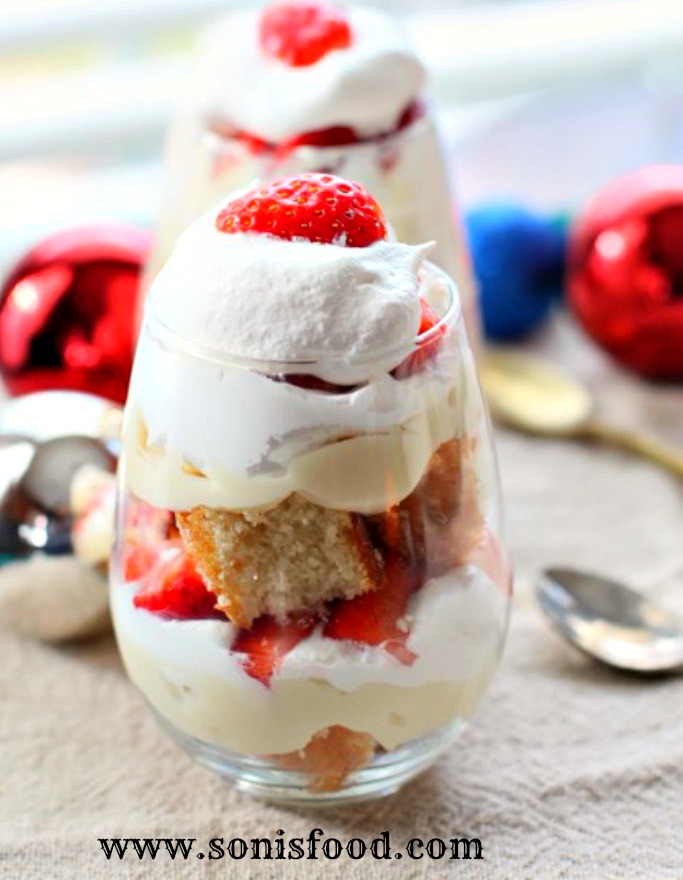 You could make the cake from scratch but I've used a regular store-bought pound cake and pudding mix.Makes the process even quicker.The beauty of layered desserts is that you can involve your kids and its a fun way to get them into the kitchen during the holidays!My kids layered this one for me 🙂 This is one dessert that's going to disappear quickly so be sure to make some extra servings.
Happy Holidays!Enjoy.
Individual Strawberry Trifle
Ingredients
1 package vanilla instant pudding
1 package pound cake cut into cubes
1 package fresh strawberries, halved
1 container frozen whipped topping, thawed
Instructions
Prepare pudding according to directions on package.
Let pudding stand a few minutes to set.
In your mini dishes, layer some of the cake pieces,top with some strawberries,then some the pudding,more strawberries,some of the whipped topping and repeat.
Repeat layers with the remaining ingredients.
Cover and store in the the refrigerator for at least 2 hours before serving.
http://www.sonisfood.com/2015/12/individual-strawberry-trifle.html
www.sonisfood.com