Its Holi (Hindu festival of colors) and millions of Indians are celebrating it with food and festivities.India becomes a kaleidoscope of colors on Holi, where people and even the streets are painted with myriad of colors.Everywhere you see, colorful powders in red,pink,greens and yellows are strewn through the air or mixed with water ready to be used on your loved ones and people have so much fun. It's one of the biggest festivals in India and is known for the one time when 'bhang' (cannabis) is consumed openly.It's used in various delicacies being prepared during Holi and everyone wants a taste!Not to forget all the multifarious foods that's also a huge part of Holi celebrations, preparations for which starts way before-hand.Elaborate menus are planned for Holi with varieties of appetizers,entrée and desserts serving to every palate.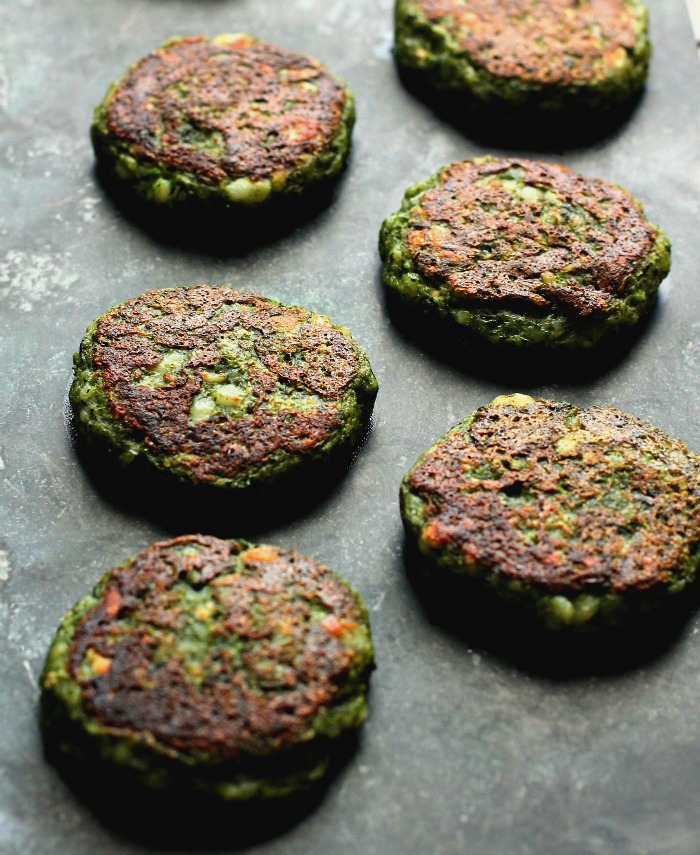 And while I do not have a bhang recipe to share with you today, these gorgeous Hara Bhara Kebabs are quite the perfect Holi appetizer with their vibrant color derived from the spinach and green peas.The kebabs are then mixed with a combination of aromatic spices and fresh herbs to give a distinctive color and flavor that's synonymous with a traditional Hara Bhara Kebab.Its one of the most popular Vegetarian appetizers in Indian Restaurants and with this easy recipe you can enjoy them in the confines of your own home!The kebabs can be assembled in advance and can be frozen or chilled until you're ready to pan fry them for your guests.They come together in no time and couldn't be any easier.The flavors consist of nutty cumin,coriander and garam masala along with some ginger and fresh herbs like cilantro and mint.
What would I do without mint!I use it in almost anything I cook 🙂
And believe me it works beautifully in these kebabs too!They're insanely delicious and highly addictive even without the 'bhang'!Enjoy and HAPPY HOLI!!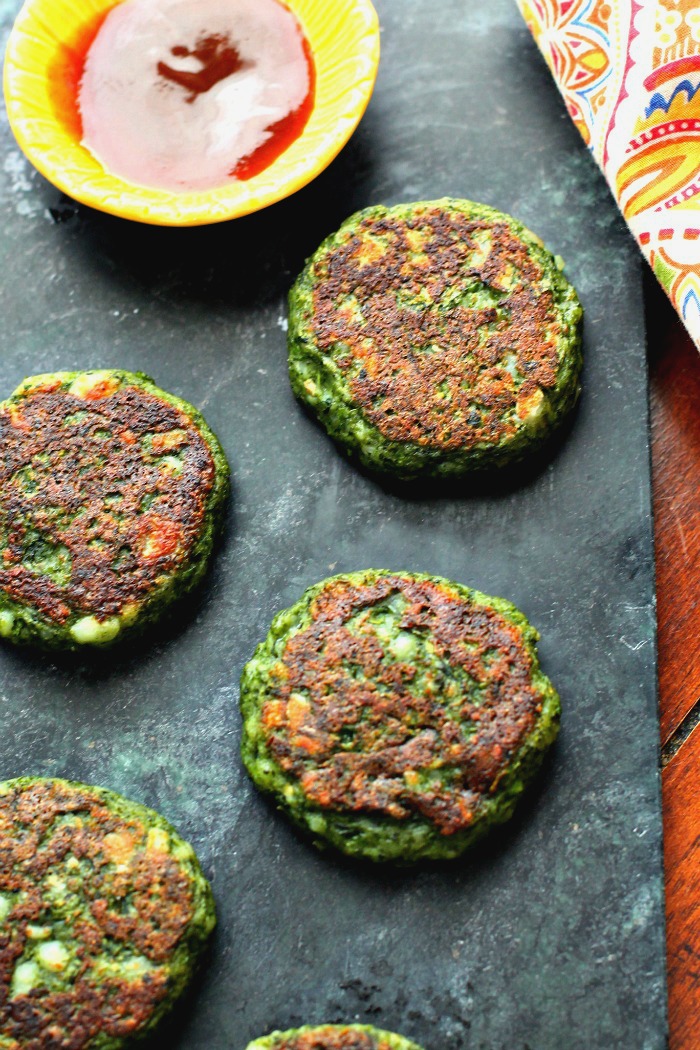 Hara Bhara Kebab (Indian Spiced Potato Cakes with Spinach and Peas)
Ingredients
3 medium size boiled potatoes
2 tsp chopped ginger
1 tbsp chopped green chillies
1 cup blanched spinach
2 cups boiled green peas (microwaved for 2 minutes on high)
3/4 cup fresh coriander & mint leaves
Cornflour-2 tbsp
Salt
Oil to pan fry

Spice Mix

1tsp cumin seeds
1 dry red chili
1tbs coriander seeds
1tsp chat masala
1tsp garam masala
Instructions
Boil the potatoes, allow them to cool and then peel and mash.
Blanch spinach leaves in boiling water, then put immediately in cold water (to retain fresh green color) and squeeze out excess water.
Dry roast the spice mix ingredients in a pan for a few mins until fragrant.Once done allow to cool and grind to a powder.
In the same pan add 2 tbsp of oil and ginger. Saute for a minute and add the green peas.
Cook for a couple of minutes.
Transfer the peas and spinach into a food processor and make a paste along with cilantro and mint.
Add this to the mashed potato along with the spice mix and cornflour.Check the seasonings.
Divide the mixture into equal portions. Shape each portion into a ball and then press it between your palms to give it a flat shape.
Heat a pan and drizzle some oil. Cook the kababs on both sides to golden and crisp outside on medium heat.
Repeat the same with the remaining mixture.Serve with your favorite chutney or sauce.
http://www.sonisfood.com/2016/03/hara-bhara-kebab-indian-spiced-potato-cakes-with-spinach-and-peas.html
www.sonisfood.com