My old wooden utensils have seen better days and as I was thinking of replacing them with new ones, Deiss Kitchenware sent me this gorgeous Nylon Utensil set that's brightened up my kitchen and makes cooking even more fun! I love their products such as this Citrus Zester/Cheese grater that I use everyday! Their products are high quality with a vibrant color and modern design. They've become my new favorite these days. What can I say, there are some definite perks to blogging. 🙂 Thankyou Deiss!
Deiss® ART 5-piece Nylon Utensil Set contains:
*Soup Ladle
*Slotted Turner
*Spaghetti Server
*Serving Spoon
*Slotted Serving Spoon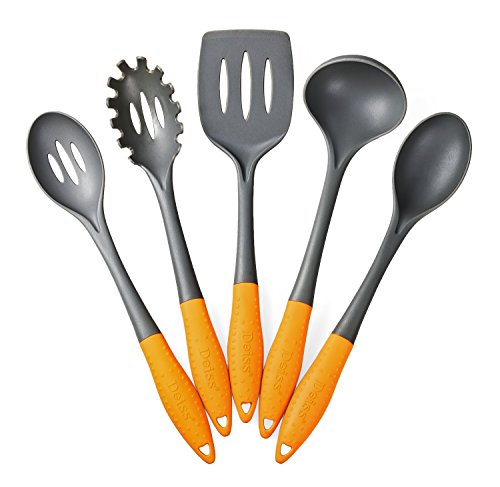 The beauty of this product is that it's:
*Made from BPA-free nylon that contains no toxins and is safe for cooking.
*NON-STICK and ODOR-RESISTANT- Deiss nylon utensils withstand up to 480° F and are non-stick, so they won't scratch your non-stick cookware. They're easily cleaned (only hand wash), and don't stain or accumulate odors unlike old plastic or bamboo kitchen accessories.
*ERGONOMIC DESIGN – Their specially designed non-slip rubber handle provides a comfortable grip even, when it's wet. Long handles and oversized heads won't let you get dirty while mixing, flipping, scraping and baking. Love it!
*LIFETIME WARRANTY- Deiss Kitchenware provides a lifetime warranty on all their products.
I can finally replace my old utensils and enjoy these beauties!They're great as holiday gifts and your family/friends will love using them in their kitchen!
Deiss is also offering my readers a 30% discount on Amazon using code 05020ERS that expires on Jan 1st..
For more information on their amazing products visit their website.
Disclaimer- I received a Deiss® ART 5-piece Nylon Utensil Set from Deiss Kitchenware and all opinions are my own.