My newest craze these days are Sweet Potatoes.So rich in texture, taste and a nicer and healthier alternative to Potatoes.Packed with nutrition, rich in fiber, vitamins and beta carotene, this is a wonder vegetable that you can incorporate into your family's diet. Its a versatile vegetable, that can be used in many different ways right from cutlets,to a simple mash, casseroles or desserts.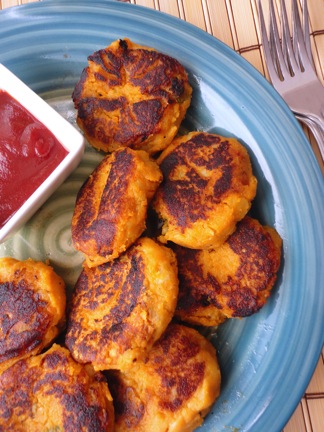 I'd originally planned on making sweet potato mash for dinner.The idea of making these into patties popped in when I'd peeled them up and I instantly changed my plan.I opened up my spice cabinet and threw in some coriander and cumin to give it a kick.The result is a luscious healthy appetizer or snack that you can enjoy guilt free!
The patties taste best when the natural sugars in the sweet potato caramelizes and imparts an earthy slightly charred flavor!The ginger kicks in along with the spices and the corn starch works as a binder.Its rustic and delicious!!I have been making it ever since and I'm sure you will too!
Indian Spiced Sweet Potato Patties
Ingredients
Sweet Potatoes-3 Medium or 4-5 small (makes about 8-10)
Potato (any kind)-1 medium boiled
Ginger-1 inch crushed
Green Chillies (jalapeños)-2 chopped finely
Ground Cumin-1 tsp
Ground Coriander-1 tsp
Cornstarch-2-3 tbsps
Salt-to taste
Oil-for shallow frying
Instructions
Wash the Sweet potatoes and bake it in the oven at 350 degrees F for 50 mins- 1 hour until cooked.
In the meantime boil a potato either on the stove-top or in a microwave.
Peel off the skin of the sweet potatoes and the potato, mash it and mix all the ingredients except oil.
Take some of the mix and flatten it between your hands, into round shaped patties.
Heat oil in a non stick pan over medium heat.
Shallow fry until nicely brown and caramalized on both sides.Serve hot with some ketchup!
http://www.sonisfood.com/2012/04/indian-spiced-sweet-potato-patties.html
www.sonisfood.com
Notes: For best results 
refrigerate the ready patties for about 20 minutes before you fry them
Use a Non-Stick pan to prevent them from sticking (do not use too much oil, just 2 tbsp on each side should suffice)
Let the patties develop a nice golden color on one side before you flip them.