Have I told you how I get obsessed with certain items in my kitchen?There was this time when all I could think of was Sweet Potatoes and then there was the Quinoa phase!My current obsession is with Eggs.I love Eggs and especially fried eggs with a raw runny yolk are a staple breakfast most days of the week.I'm obsessed about cooking my eggs just the right way.Do you have that obsession too?Maybe not.I just cannot trust anybody and have to make them myself.Due to the fact that I eat raw eggs most days of the week,its difficult to trust all the brands out there.So I always go with Safest Choice Eggs that guarantee that the eggs have been pasteurized and are safe to be eaten raw.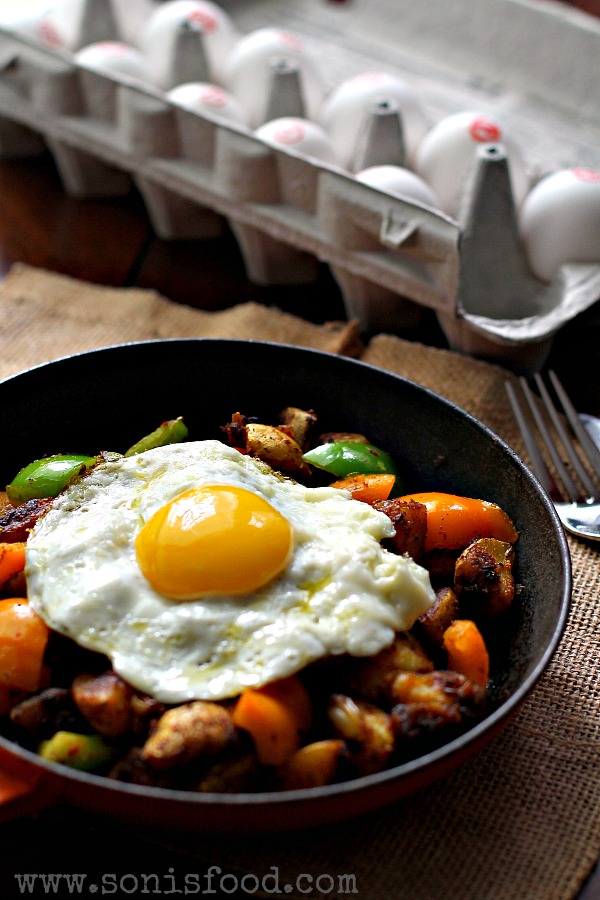 Safest Choice Eggs are not your ordinary eggs.Because Safest Choice Pasteurized Eggs are pasteurized, they've eliminated the risk of harmful Salmonella bacteria and viruses. This means we can prepare our eggs any way we'd like, and without having to worry about direct exposure to Salmonella or egg-related cross contamination in our kitchen.They've earned the seal of approval for exceptional flavor and culinary performance from the nation's largest organzation of professional chefs the ACF (American Culinary Federation).So I can now trust this brand and create family recipes using Safest Choice Eggs with a peace of mind.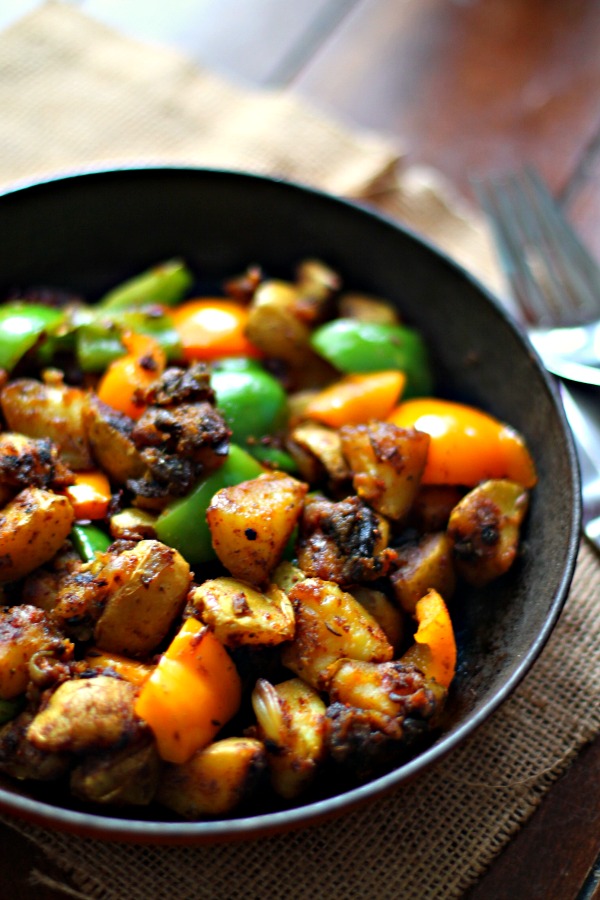 My favorite way to use them is in my Indian Inspired Breakfast Hash that compliments the fried egg on top and the flavors blend beautifully.It cooks in no time and a cast iron pan would be ideal for cooking.I've used a combination of Potatoes and some colored peppers and have flavored them with cumin, chili, garlic and turmeric.Its a family recipe and the fried egg on top makes this a filling breakfast, bruch or even dinner.I love the garlic with the potatoes.That sharp pungent flavor cutting through the sweet peppers and the potatoes is just plain delicious.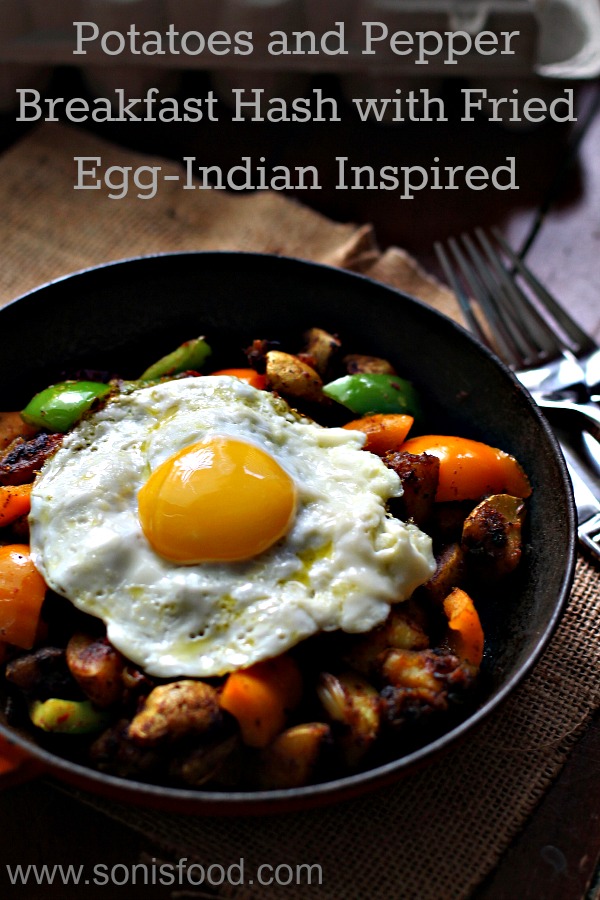 ---
Potatoes and Pepper Breakfast Hash with Fried Egg-Indian Inspired using #SafestChoice Eggs
Ingredients:
Safest Choice Egg-1
Potatoes-3 medium diced
Green and Orange Peppers-1 1/2 cups diced
Onions-1 medium sliced
Cumin Seeds-2 tsp
Turmeric-1/2 tsp
Red chili powder-1 tsp
Fresh Crushed garlic-2 tbsp
Salt-to taste
Oil-4 tbsp
Process:
In a cast iron pan heat the oil and add onions.
Once its golden add the potatoes along with turmeric,chili and salt.
Saute and stir every now and then until they turn golden around the edges and are almost cooked and hold their shape.
Add the crushed garlic and the peppers.
Mix and saute just until the peppers are slightly cooked and still maintain their crunch.
Check the seasonings.
In a separate skillet add a tsp or two of oil or butter.Crack an egg into a small bowl.
Gently pour the egg into the skillet.Cook until the white has set.Season and arrange on top of the hash.Serve hot!
---
Safest Choice Eggs are a great option for those looking to use raw eggs in their recipes.They taste,look and cook just like other eggs and are a safe choice for families.So what are you waiting for?Go buy some right now and make your favorite recipes without fear of Salmonella.For more information about availablity you can visit their website.You can also follow them on Facebook,Twitter,Pinterest and You Tube.
Love Eggs? Like receiving seasonal recipe ideas and coupons? Join Safest Choice Eggs mailing list and you could win a Chef approved cookware set and a $200 gift card! To participate, just click and fill out the form and you will be automatically be entered into the giveaway.
Disclosure-This is a sponsored post in collaboration with Safest Choice Eggs.