Autumn brings with it this craving for comforting foods!Foods that simmer on the stove tops or in the oven, foods that develop those lovely flavors that warms you up,foods like soups, stews  and warm desserts!I have a soup for you that not only warms you up, but is rich in anti-oxidants and beta carotene!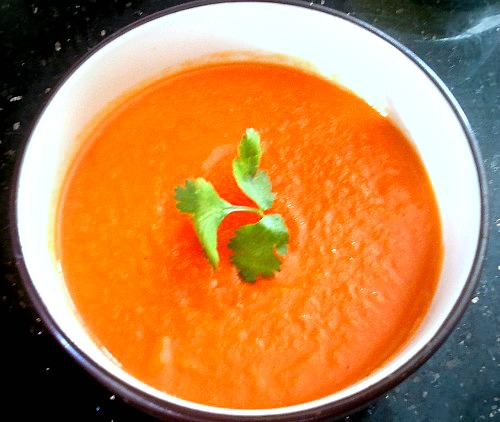 My Carrot and Coriander Soup is the most satisfying, flavorful, extremely easy to make and so vibrant!Its reminiscent of the time when were in England.Its easily available in all the supermarkets over there and when I couldn't find it here in America I started making my own!Its earthy, sweet, a little spicy, a perfect autumn food~
Carrot and Coriander Soup
Ingredients
6 Carrots-peeled and cubed
1 medium Onion-chopped
Olive oil or butter- 1tbsp
Ground Coriander-1 tbsp
Orange Juice- 1/4 cup
Water -3 cups
Salt-to taste
Pepper-1 tsp
Fresh Coriander-for garnish
Instructions
In a deep pot, heat oil or butter and add the chopped onions until soft.
Add the carrots and saute for a few minutes.
Add the water, salt and pepper .
Cover and cook until the carrots are done.
Now add the orange juice and the ground coriander.Let it cook for 2 more minutes.
Puree the soup in a blender and garnish with fresh coriander.Serve hot!
http://www.sonisfood.com/2012/10/carrot-and-coriander-soup.html
www.sonisfood.com