I've been on a slight health kick lately.My salad is a sure shot way to a get those essential vitamins and with Valentine's Day fast approaching, its not a bad idea to eat healthy, so that a little bit of indulgence on the day itself will not hurt.
That brings me to this amazing soup.I love Cauliflower and anything that has anything to do with Cauliflower.Its my most favorite vegetable and I cook it all the time.I'm so glad that my kids and the hubs are also with me on this one.With the temperatures being the way they have,I've been making soups for dinner.I find them very comforting, very easy for weeknights and you can have different variations without sounding monotonous.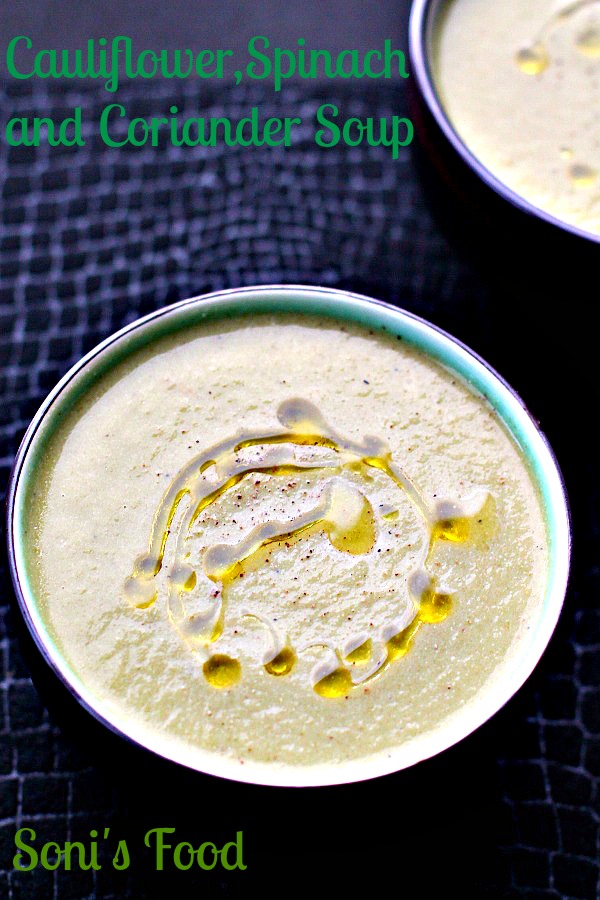 This soup is inspired by my Carrot and Coriander Soup and I've substituted carrots for cauliflower and added some spinach for extra nutrition and color.The coriander gives it just a hint of spice in the background, while the creamy cauliflower and spinach work their own magic.The soup comes together with a splash of light cream at the end and couldn't be any easier.Scoop it with a crusty bread and enjoy!
Cauliflower,Spinach and Coriander Soup
Ingredients
Cauliflower florets-2 cups
Fresh Spinach-1 cup
Chicken or vegetable stock-2 cups
Olive Oil-2 tbsp
Onion- 1 medium
2 garlic cloves-crushed
Ground Coriander-1 tbsp
Salt and pepper
Light cream-1/4 cup
Instructions
In a pot heat the oil and saute the onions for about a minute or two until translucent followed by garlic.
Add the cauliflower florets and coriander.
Saute for a minute and add the stock.
Add salt and pepper.Bring to a boil.
Reduce the heat, cover and cook for about 10 minutes.
Add the spinach and cook for another five minutes.
Puree in a blender.
Return to the stove and add the cream.Stir and serve hot.
http://www.sonisfood.com/2014/02/cauliflowerspinach-and-coriander-soup.html
www.sonisfood.com