This past week, Hurricane Sandy ripped through New York and New Jersey and we were left with no power or heating for four days.There were trees uprooted all across our neighborhood and we were extremely lucky that none fell on our house or on our neighbors'!The help and offers from friends and well wishers to come and stay was really touching and we're very thankful to all our friends for their hospitality in such times.The amount of destruction is massive and my heart goes out to the families who've suffered to the extent that's unimaginable and I only hope that their lives return back to normal sooner than later.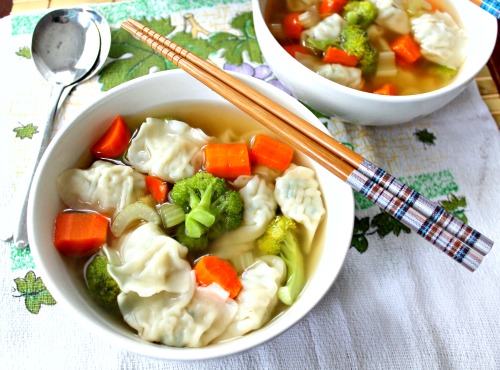 In order to keep us warm I often made soups for lunch and this easy Wonton soup was just perfect since it didn't require any effort.I used a pack of Chicken Wontons sold at Trader Joe's.Just added a few veggies with some stock and we had one tasty soup. You can easily make a vegetarian version of this soup by using vegetable wontons and vegetable stock!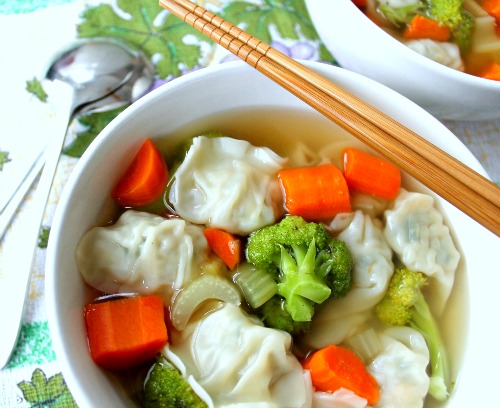 Easy Wonton Soup #SundaySupper
Easy Wonton Soup to keep you warm!
Ingredients
Chicken Wontons-14-16 pieces
Carrots-2 large peeled and cubed
Celery- 2 stalks washed and chopped
Broccoli- 1/2 (cut into florets)
Low Sodium Chicken Broth-3-4 cups
Soy Sauce-1 tbsp
Ginger-1/2 inch freshly crushed
Salt-to taste
Pepper-1 tsp
Instructions
In a pot heat the stock and add the carrot,celery,soy sauce,ginger and pepper.Bring to a boil and let it cook on medium for about 10-15 minutes.Add the wontons and broccoli and cook for about 2-3 minutes.Check the seasonings.Serve hot!
http://www.sonisfood.com/2012/11/easy-wonton-soup-sundaysupper.html
www.sonisfood.com
Our friend Susan from The Girl in the Little Red Kitchen is hosting this week's SundaySupper with foods that keep you warm!Scroll down for some 'warm you up' dishes from our group!
Main Entrees: 
Chili/Stews:
Soups:
Desserts/Beverages:
Join on us on Twitter throughout the day during #SundaySupper.  In the evening we will meet at 7pm EST for our weekly #SundaySupper live chat.
All you have to do is follow the #SundaySupper hashtag or you can follow us through TweetChat.
We'd also love to feature your Sunday Supper Soul Warming Recipes on our #SundaySupper Pinterest board and share them with all of our followers, too.