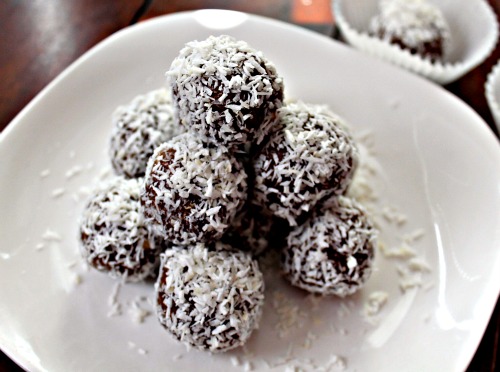 I've recently tried cooking and baking with Coconut Oil and I have to confess,I'm addicted!!!I love the fruity smell of coconut oil and cannot believe it took me so long to realize how good this stuff is!!So imagine my excitement when the folks at Tropical Traditions sent me a 32 oz Jar of their Gold Label Virgin Coconut Oil!I always try and look for healthier alternatives in my cooking and baking and Coconut Oil seems to fit the bill perfectly.Its pretty versatile since it can be used in both sweet and savory creations and I love its warm sweet aroma filling my kitchen when I use it!
Tropical Traditions is America's source for coconut oil. Their Gold Label Virgin Coconut Oil is hand crafted in small batches by family producers, and it is the highest quality coconut oil they offer. You can read more about how virgin coconut oil is different from other coconut oils on their website: What is Virgin Coconut Oil or watch this video.
To find out the different varieties, current offers and uses of Coconut Oil visit the Tropical Traditions Website.For more information on the health benefits of Coconut Oil, read this.
**************************************
Now to the Exciting Part!!
One of you lucky readers is eligible to win a quart of Gold Label Virgin Coconut Oil from Tropical Traditions!
HOW TO ENTER:
To enter, all you have to do is subscribe to receive Tropical Traditions' Coconut Oil Sales Newsletter and leave me a comment here telling me you did so!
For some bonus entries, you can do any or all of the following:
*If you're already following me on Facebook, Twitter, Pinterest or Google+ please note that in your comments!Also, please leave a separate comment for each entry here on my blog!
So, if you're counting, that's nine total entries to win a sample of this great product!
***This giveaway is only open to residents of the United States and Canada.  The giveaway will run through Dec 16th 2012.  The winner will have three days to respond to claim his or her sample before another winner will be chosen.*** 
******************************************
Now on to my recipe!!
My first recipe using Coconut Oil were my Sweet and Spicy Curried Nuts that got me hooked! The recipe I'm making today are these No Bake Date Coconut Snow Balls that are also perfect for the Holidays and so super easy.The coconut oil imparts a sweet flavor  and also makes these balls so moist!The flavor of coconut oil is very subtle, not too potent.I absolutely loved the texture and flavor that I couldn't stop myself from eating them! These are soft indulgent bites of deliciousness that are also nutritious and cute!A guilt free dessert for the holidays.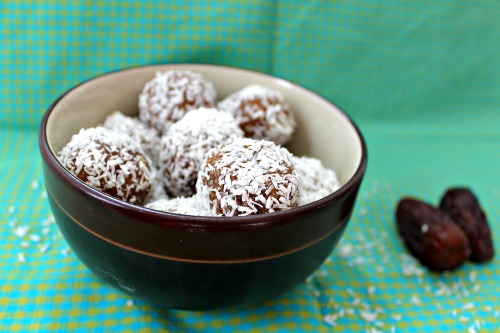 No Bake Date Coconut Snowballs and a Virgin Coconut Oil Giveaway!!!!
Delicious no bake date, coconut snow balls!
Ingredients
Mejdool Dates-1 1/2 Cups Pitted and chopped
Almond Flour-2 tbsp
Cashews-1/2 cup chopped
Shredded Unsweetened Coconut-1/2 cup (plus 4 tbsp for rolling the balls)
Packed Brown Sugar-2 tbsp
Coconut Oil-1 tbsp
Instructions
Toast 1/2 cup of shredded coconut in a pan until slightly golden.Keep aside.
In a food processor mix together the dates,almond flour,cashews,toasted coconut, brown sugar and coconut oil until the mixture comes together like a dough.
Take a small amount in your hands and form small balls.
Roll the balls in the shredded coconut.Enjoy!
http://www.sonisfood.com/2012/12/no-bake-date-coconut-snowballs-and-a-virgin-coconut-oil-giveaway.html
www.sonisfood.com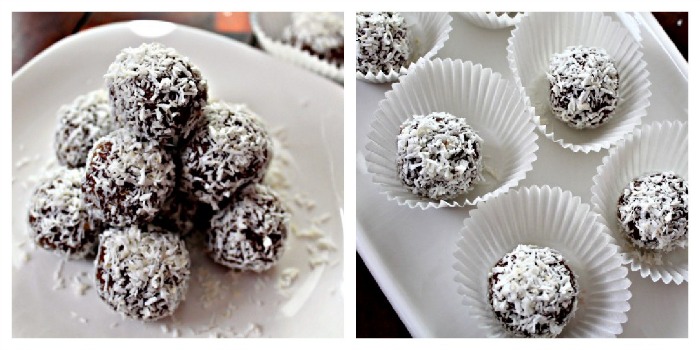 **** Tropical Traditions provided me with a free sample of this product ****
*********THIS GIVEAWAY IS CLOSED********