There are certain days in the year when you're looking forward to spending more time outside the kitchen than inside.And for days like those, easy one pot meals are the perfect solution.Throw in some exotic spices and you have one special meal that stands out and yet looks like you've slogged all day!My Shrimp Pulao is one such dish that's versatile enough to be served as your cozy meal at home or as a stunning centerpiece at a party!Its perfect for day's like the Valentine's Day when your looking to cook something special for your loved ones and still get to enjoy your time!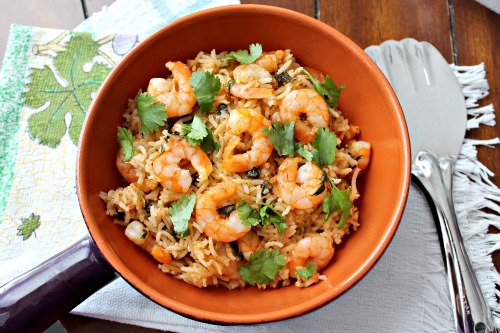 We love seafood in our family and Shrimp has been a favorite for quite sometime!I always have a pack of Frozen Cooked Shrimp sold at Trader Joe's in my freezer and it comes in handy especially in the weeknights.I use it in my soups, pastas, quick curry or my Shrimp Pulao!Of course,fresh Shrimp would taste even better!Whether you have unexpected guests or you've been asked to bring a main dish for a potluck, this Pulao never fails!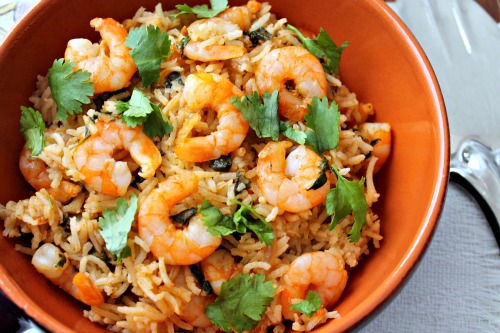 The addition of whole spices add the exotic Indian touch to this dish and the Coriander and Mint flavor it beautifully.Serve with a Raita and a simple salad for a special one pot meal this Valentine's Day!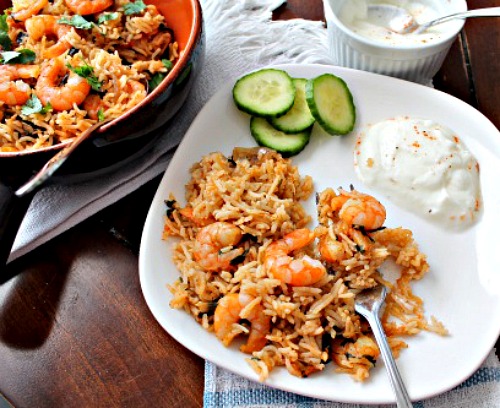 Ingredients
White Basmati Rice-1 1/2 cups
Water-3 Cups
Shrimp-1 lb (fresh or frozen)
Ghee or Butter-1 tsp
Vegetable Oil-2 tbsp
Green Cardamom-3 pods
Cloves-3
Cinnamon-1/2 inch
Onion- 1 medium sliced
Ginger-1/2 inch crushed
Garlic-3 cloves crushed
Tomato Puree-1 cup
Ground Cumin-1 1/2 tsp
Ground Coriander-1 1/2 tsp
Red Chili Powder-1 tsp
Fresh Coriander-1/2 cup chopped
Fresh Mint-1/2 cup chopped
Salt- to taste
Instructions
Soak the rice in water for 30 mins.If using frozen Shrimp,defrost and rinse.Keep aside.
In a deep pot heat the Ghee and Oil.
Add the Cardamom, Cloves and Cinnamon.Let it flavor the oil for about a minute.
Add sliced onions.Saute until slightly golden.
Add the crushed ginger and garlic.Saute for a minute.
Add the ground cumin, ground coriander,red chili and stir on low heat until fragrant.
Add the tomato puree and the chopped coriander and mint and cook for about 3-4 minutes.
Add the drained rice, water and salt.Check for seasonings.Bring to a boil.Reduce the heat on low.
Cover and cook for about 10 minutes.
After 10 mins,arrange the Shrimp on top of the rice.Close the lid back and cook for another 5 minutes or until all the water is absorbed and the rice is cooked.
Fluff the rice with a fork and serve hot with Raita and Salad!Enjoy!
http://www.sonisfood.com/2013/02/indian-shrimp-pulao-for-valentines-daysundaysupper.html
www.sonisfood.com
Our friend Jen from Juanita's Cocina is hosting our special #SundaySupper!Check out what the rest of the #SundaySupper crew is serving up this Valentine's Day!
#SundaySupper Valentine's Day Breakfasts, Apps & Main Dishes:
#SundaySupper Valentine's Day Sweet Eats:
#SundaySupper Valentine's Day Drinks:
#SundaySupper Valentine's Day Tablescape:  A Romantic Table For Two Please from An Appealing Plan
Join the #SundaySupper conversation on Twitter today to talk all about Valentine's eats and treats!  We'll tweet throughout the day and share recipes from all over the world.  Our weekly chat starts at 7:00 pm ET and you do not want to miss out on the fun.  Follow the #SundaySupper hashtag, and remember to include it in your tweets to join in the chat.  Check out our #SundaySupper Pinterest board for more fabulous recipes and food photos!