The weather is still a bit nippy in the mornings and I find myself craving for comforting meals even now

I had recently bought some gorgeous Fennel from my local Whole Foods and used them in two different ways, my Roasted Curried Fennel and this recipe in which I've used all the stems and fronds as well.Soups are a great nutritious lunch option without too many calories if made healthier and you can make so many varieties of soups to suit your palette.Eating healthy also naturally makes you feel good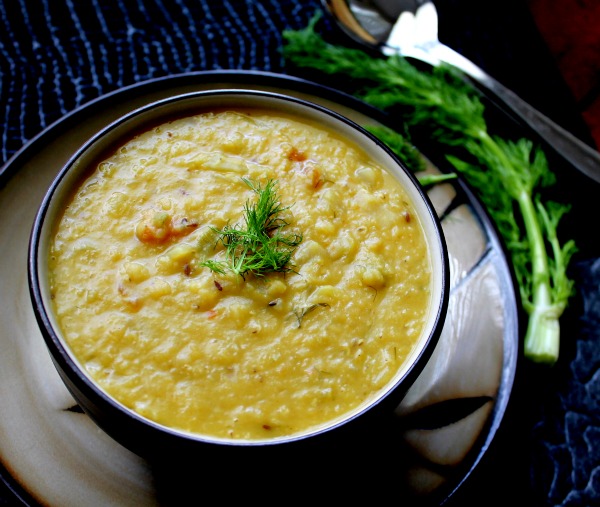 I've taken Mom's staple Dal Recipe using Red Lentils and Cabbage and just added sweet Fennel to amp up the flavors.It works beautifully

The Cabbage and Fennel are sliced thinly and sautéed along with some spices and ginger and then cooked along with the Lentils until all soft and creamy.I love the crunch from the fennel stems that contrasts the otherwise creamy texture and the flavors are just delicious! The turmeric gives it a vibrant color and in India it would be served alongside some Rice or Roti,Pickles and Raita! In my efforts to cut down on carbs I enjoyed it on its own

You can make it thick or watery depending on your preference!I like mine quite thick and creamy.Packed with protein and vitamins this is one healthy soup you're going to love!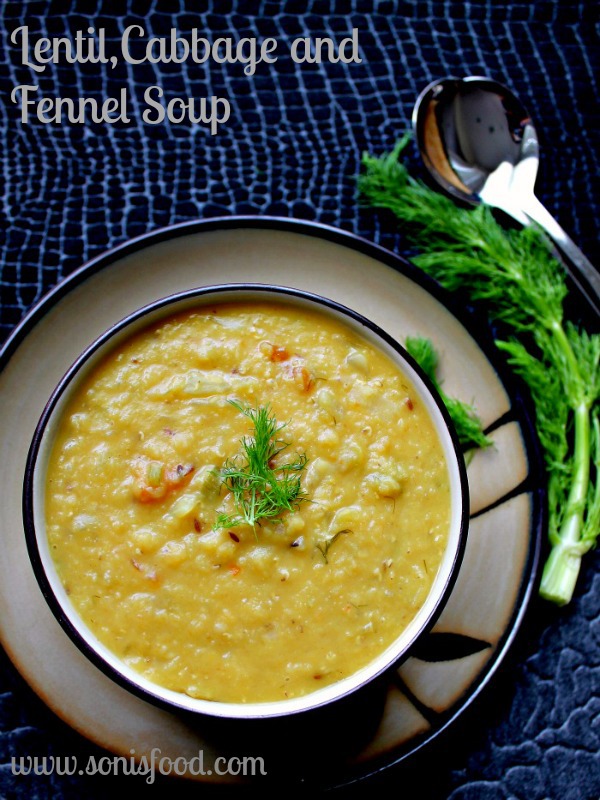 Lentil,Cabbage and Fennel Soup-Indian Inspired
Ingredients
Red Lentils-1 cup
Sliced Green Cabbage-1 cup
Sliced Fennel(including the stems and fronds) -1 cup
Bay Leaf-1
Cumin Seeds-2 tsp
Ginger-1 inch (crushed)
Ground Coriander-2 tsp
Turmeric-1 tsp
Tomato-1 chopped
Green chili/jalapeño-1 chopped
Water-2 cups
Salt- to taste
Oil-2 tbsp
Instructions
Wash the lentils and keep aside.Prepare the veggies.
In a pot heat oil and the cumin seeds until it crackles.
Add the cabbage and fennel,bay leaf and all the spices,tomato and jalapeños.
Saute on medium until well mixed.Add the lentils and continue to stir for about a minute.
Add water and salt.Bring to a boil.
Reduce the heat and cover.Let it cook until the lentils are tender about (15-20 mins) If its too thick add some more water and mix.Check seasonings.
Serve hot!
www.sonisfood.com