The weather has played a dampener this weekend that is so unusual for this time of the year!The kids were looking forward to our pool opening,but the weather Gods had something else in mind, I guess!Our Sunday Super team is definitely unfazed by the weather pattern and we're here to lift your spirits up with some mouth watering picnic ideas!!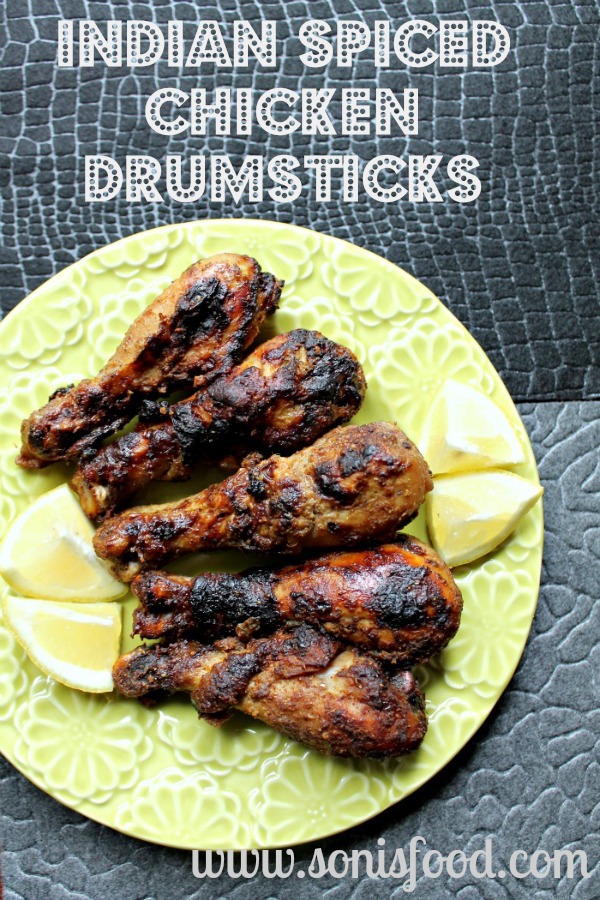 I've got my scrumptious Roasted Chicken Drumsticks with a spice blend of Coriander,Fennel,Cumin,Red Chilies,Cinnamon and Cloves that gives it some great flavors.I toasted the spices in a pan until the air in my kitchen was filled with a warm aromatic scent and then transferred the mixture into my spice grinder.You could use this as a spice rub for various meats or fish too!So good!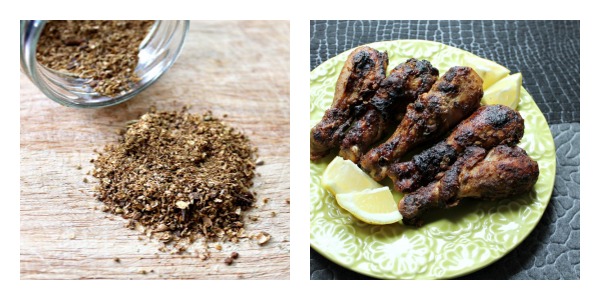 I marinated these overnight and broiled them the next day until all nice and golden on all sides.Drumsticks are the perfect finger foods for a picnic and are adored by adults and kids alike!Pack it with some salad or grill them right in the picnic area if you have the facility and you've got  a great picnic dish that couldn't be any easier!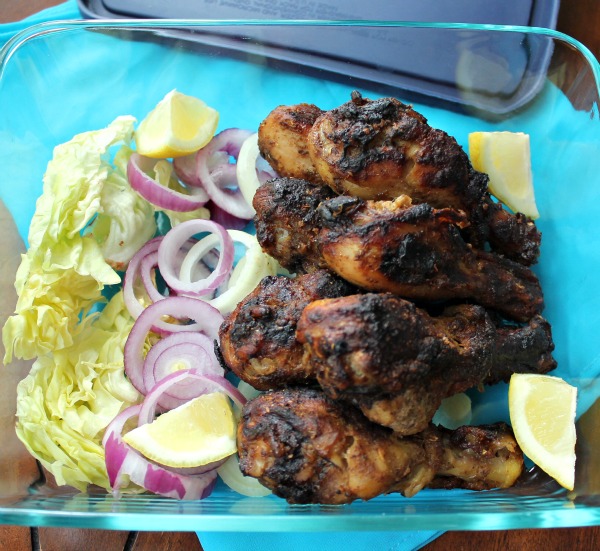 Indian Spiced Chicken Drumsticks
Ingredients
Indian Spice Blend

Coriander Seeds-3 tbsp
Cumin Seeds-1 1/2 tbsp
Fennel Seeds-1 tbsp
Cinnamon-1 inch
Cloves-4
Dry Red Chili-2

For the Marinade:

Chicken Drumsticks-7-8 pieces
Thick Yoghurt-1 cup
Crushed Ginger-1 tbsp
Crushed Garlic-1 tbsp
Indian Spice Blend-2 tbsp
Oil-2 tbsp
Salt-to taste
Chaat Masala (optional)-1 tbsp
Instructions
In a pan toast all the spices on low heat until aromatic making sure to not burn it.
Transfer into a spice grinder and coarse grind the spices.
In a ziplock bag mix all the marinade ingredients except oil and keep it in the fridge for a few hours or overnight.
When ready arrange on a greased foil lined baking sheet,drizzle oil all over and broil until all golden turning the drumsticks every now and then to develop color on all sides.
Brush the sides with the remaining marinade to keep them moist and flavorful.
Sprinkle some lemon juice and chaat masala all over and serve warm!
http://www.sonisfood.com/2013/05/indian-spiced-chicken-drumsticks-sundaysupper.html
www.sonisfood.com
This wonderful event is hosted by the lovely Katy of Happy Baking Days and our group has some amazing picnic ideas for this season!Get inspired 🙂
Salads and Slaws:
Sandwiches and Mains:
Desserts:
Drinks:
Check back on Sunday for all the recipes! You can join in the chat on Twitter too: we'll tweet throughout the day and share all of our picnic recipes. Our weekly chat starts at 7:00 pm EST. To join in, just follow the #SundaySupper hashtag, and remember to include it in your tweets. You can also check out our #SundaySupper Pinterest board for more delicious recipes and photos.