Its Father's Day and I'm extremely lucky to be blessed with two wonderful men in my life.My Dad and my hubby , two very different individuals but without them my life would be incomplete.My Dad has been the driving force behind my love for all things food and I'll always be grateful to him for that.His unconditional love and support in everything I do means a lot to me.My hubby has also loved and encouraged me every step of the way and I'm dedicating this post to him.He has been an amazing father to our children.Right from the very beginning he has been a very hands-on Dad and has had no qualms about changing their nappies as many times as required!He has taken-up all his Daddy duties quite happily and actually enjoys it.He's been wonderful with both our kids and his love for them is evident all the time, every time.He loves to play with them,act silly with them,just enjoys his time with them!If he sees me busy with my blog stuff he makes sure to take them out so that I can finish off my work peacefully!Seriously, I couldn't have asked for a better father for our kids!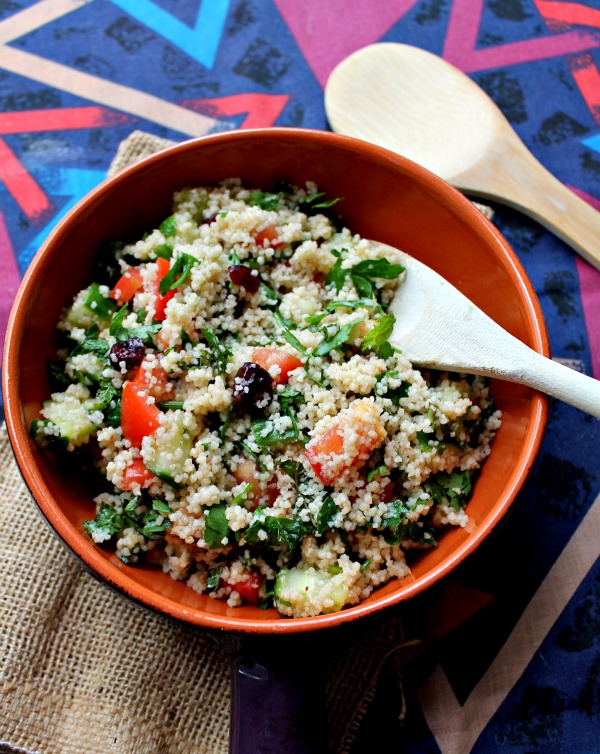 Today I'm making a dish that he is very fond of.Its the Couscous Tabbouleh!I recently discovered Tabbouleh on Ina Garten's "Barefoot Contessa" on Food Network and immediately decided to try it.Tabbouleh is a Middle Eastern Salad traditionally made with Bulgar wheat, but you can also substitute Couscous or Quinoa or even Orzo!Its a light and healthy salad bursting with flavors from the Parsley, Mint,Cucumber and Tomatoes.It can be adapted to suit your own taste and you could also add nuts and dried fruits to the mix.I love to add dried Sweetened Cranberries in mine.My hubby absolutely loves it and cannot get enough of it lately 🙂 I've made this dish many times these past few weeks along with my Grilled Chicken for an easy weeknight dinner!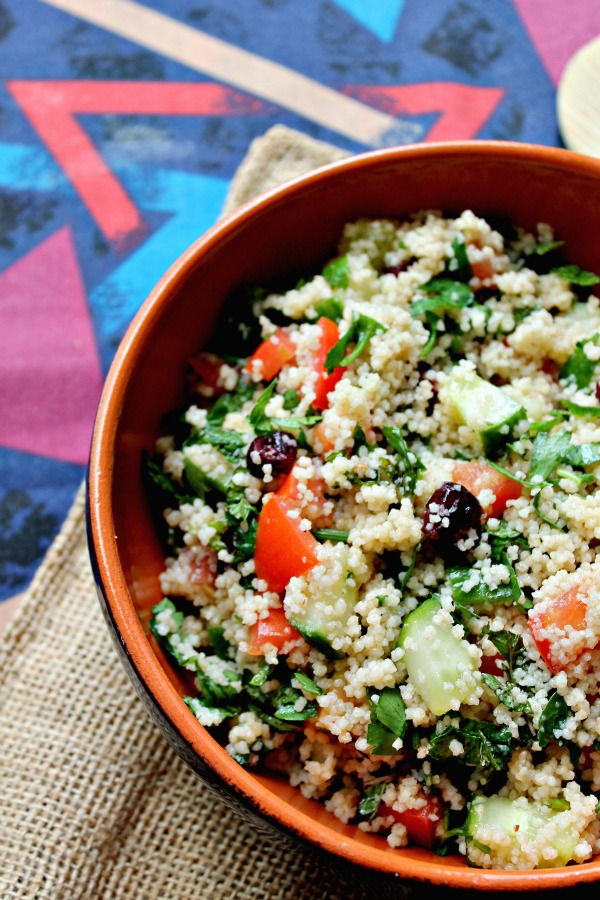 Its a great salad for a potluck since it can be prepared ahead of time.In fact it tastes better if it sits in the refrigerator for some time for the flavors to blend.Its got the crunch, the tang,the sweetness and the mint compliments the parsley beautifully to balance the flavors.A great tasting summer salad you've got to try!
Wishing all the Dads a 'Very Happy Father's Day '!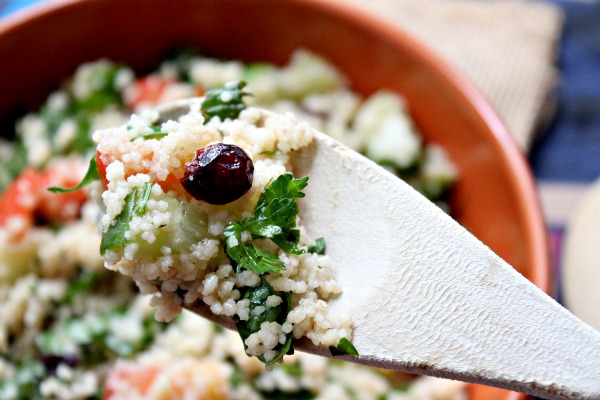 Ingredients
Whole Wheat Couscous-1 cup
Water-2 cups
English Cucumber-1 cup chopped
Tomatoes-1 cup chopped
Mint leaves-1 cup chopped
Flat leaf Parsley-1 cup chopped
Dried Sweetened Cranberries-1/2 cup
Zest and juice of 2 lemons
Garlic-2 cloves-crushed
Extra Virgin Olive Oil-3 tbsp
Salt-to taste
Pepper-1 tsp
Instructions
In a pot heat the water with a little salt and bring it to a boil.
Add the couscous,turn off the heat,mix it and cover it.Let it stand for about 2 minutes.After 2 minutes fluff it with a fork.Your couscous is ready.
In a large bowl add the Olive Oil, garlic,lemon juice ,zest,salt and pepper.Mix well.
Add all the other ingredients and the Couscous and mix well.Check the seasonings.
Cover and refrigerate for about an hour.Serve chilled.
http://www.sonisfood.com/2013/06/couscous-tabbouleh-for-fathers-day-sundaysupper.html
www.sonisfood.com
The lovely Isabel of Family Foodie and founder of SundaySupper is hosting this special event and we've got a great line-up of delicious recipes to please the Dads on this Father's Day!
Dad's Favorite Main Dishes: 
Dad's Favorite Appetizers and Sides: 
Dad's Favorite Desserts
Sunday Supper is not only a movement, but our contributors have become more like a family.   Happy Father's Day to all the amazing families in this group!  Without your love for family, the Sunday Supper Movement would not be what it is today.  May you enjoy a day filled with love Around the Family Table!
Come celebrate Father's day with the Sunday Supper Team! We would love to have you join our Twitter #SundaySupper chat starting at 7:00 pm EST. Follow the #SundaySupper hashtag throughout the day to see the amazing recipes. We look forward to seeing you.  To join all you need to do is follow the#SundaySupper hashtag and share your favorite tips and recipes. Be sure to check out our #SundaySupper Pinterest board for more delicious recipes and photos.