Mint is by far my favorite herb.I love the fact that it can be used in Savory Sauces,Desserts and Drinks.Its sweet fragrance makes any food or drink so irresistible and I love the fresh aftertaste.It enhances the flavors of anything you add it into and transforms mundane dishes into something special.I've used mint in my favorite dishes over here and here.So good.I like to mix mint with cilantro in my savory dishes to get a subtle balance of flavors without overpowering either herb.
I also love Salmon.And its a good thing to love Salmon since it has some nutritional benefits that we all need.Its heart healthy and packed with protein.It does have a strong taste and some of you might find it a bit overpowering, but I've grown up in India and the fresh water fish in India have a pretty strong flavor too, so I don't mind it at all.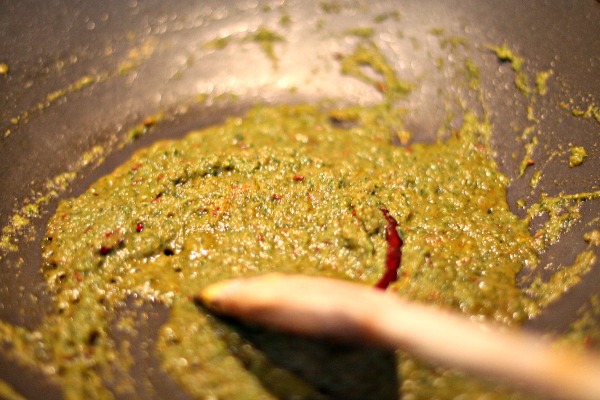 Coming to my recipe, it has the mint and cilantro along with some cumin,coriander and lets not forget the ginger and garlic so important in Indian cooking.The best part is that the sauce comes together in a blender and the aroma is unbelievable as it cooks.You can smell the lovely herbs and once you add in the spices, you start to get hungry.The yoghurt is a small amount just enough to add the tang and a lovely consistency to the sauce.
Serve it with some hot steaming rice and you have one amazing meal.Enjoy.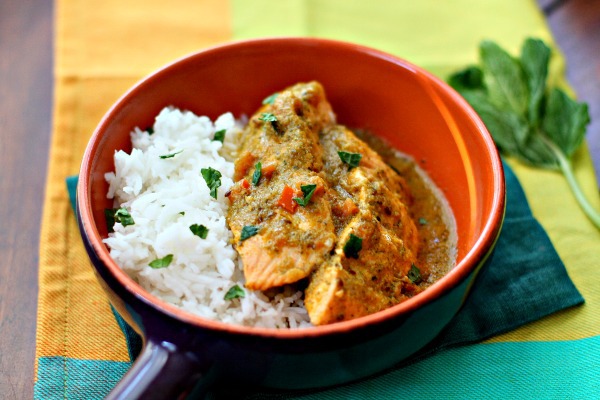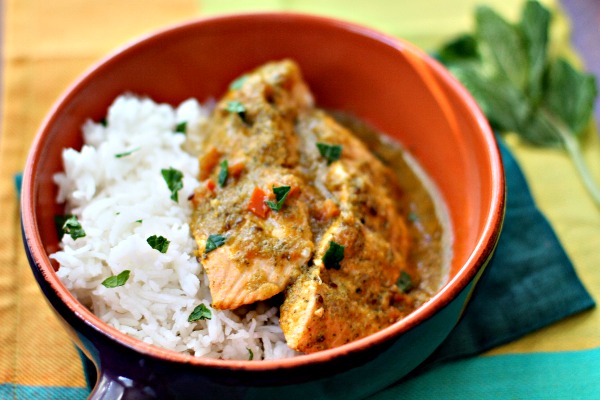 Salmon in Mint and Coriander Sauce
Ingredients
Salmon fillets-4 (6oz each)
Onion-1 small
Ginger-1/2 inch
Garlic-4 cloves
Fresh Mint chopped-1/2 cup
Fresh Coriander chopped-1/2 cup
Yoghurt-2 tbsp
Ground Cumin-1 tsp
Ground Coriander- 1 1/2 tsp
Turmeric-1/2 tsp
Paprika or Red Chili-1/2 tsp
1 Small Tomato- chopped
Tomato Paste-1 tbsp
Water-1 1/2 cups
Salt- to taste
Oil-3 tbsp
Instructions
Place the onion,ginger,garlic,mint and fresh coriander(cilantro) in a food processor along with a little water.Blend to make a paste.Keep aside.
In a skillet or a wok heat oil.
Transfer the mint paste into the oil and saute for about 5-6 minutes until the raw onion smell disappears.
Add the spices and continue to cook until all aromatic about 3-4 minutes.
Add the yoghurt and tomato paste and cook until you see oil separating from the sides.
Add the water and salt.Bring to a boil.
Add the Salmon, reduce the heat.Cover and cook until Salmon is fully cooked.(about 6-8 minutes)
Check seasonings.
Serve hot with some rice.Enjoy.
http://www.sonisfood.com/2013/11/salmon-in-mint-and-coriander-sauce-fishrecipes.html
www.sonisfood.com