Mangoes are in season and I only just remembered that I haven't posted any mango recipes of late.Well, the recipe I've got for you today is a tasty salad/side dish for this season and has the sweet, salty and tangy element that I'm so fond of in my food.Its great for a crowd and can be assembled in no time.Its a dish that's also Diary,Egg,Nut and Gluten Free and that's what we're focussing on today for our Sunday Supper!'FREE FOR ALL' foods that are either Fat free,Gluten free,Dairy Free,Egg Free or Nut Free for people who are either intolerant or choose to avoid certain foods.Well, we have over 30 recipes for you today featuring various "free for all' dishes that will blow you away!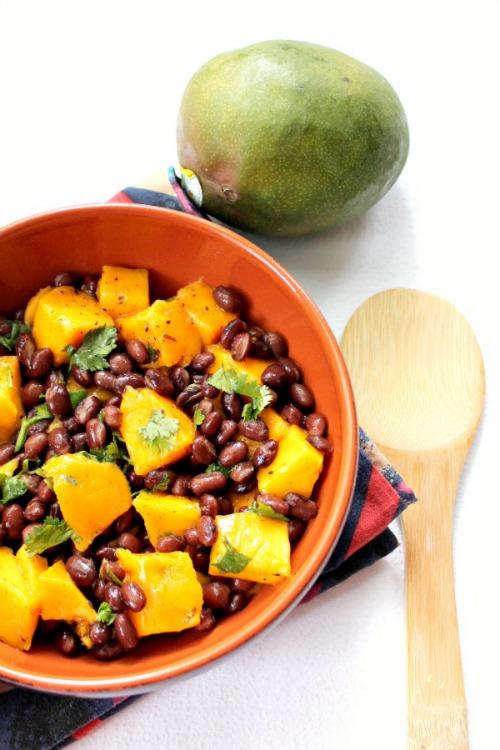 I'm a big Mango lover and love to use them in both sweet and savory dishes.This salad came about one afternoon,when I was searching my pantry for some lunch ideas and spotted the can of Black Beans forlornly calling my name.It had been sitting there ignored for some time and I really felt sorry for it!
Really, I did.
I immediately took it out and my eyes wandered around the kitchen until I spotted the fruit bowl with fresh juicy Mangoes!Next thing I knew I was peeling off the skin of the mangoes and with a little-bit-of-this and a little-bit-of-that thrown in,my lunch was ready within ten minutes!The Black Beans were bouncing with joy being tossed around with the mango and cilantro and they did seem quite happy 🙂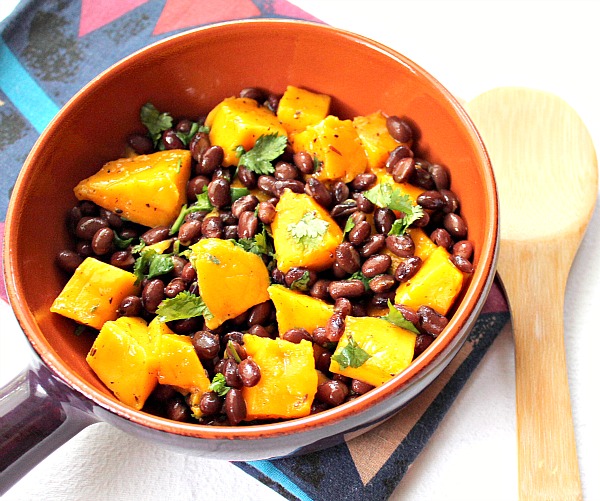 The toasted crushed cumin and chat masala are the Indian elements in this salad and add a lovely nutty, tangy flavor to it.If you like some heat then add the Jalapeños (I added some in mine!).Either way,its delicious!
Black Bean and Mango Salad #SundaySupper
Ingredients
1 10 oz Can of Black Beans
Ripe Mangoes-2 peeled and cubed
Cumin Seeds-2 tsp
Lime Juice-2 tbsp
Cilantro-2 tbsp chopped
Jalapeño (optional)-1 chopped
Salt-to taste
Pepper-1/2 tsp
Chat Masala-1/2 tsp
Instructions
In a pan toast the cumin seeds until aromatic and slightly browned.Once cool,crush them using a pestle and mortar.
Drain and rinse the black beans.
In a bowl toss all the ingredients and put in the fridge to let the flavors come together.
Serve chilled.
http://www.sonisfood.com/2013/06/black-bean-and-mango-salad-sundaysupper-dairyegg-and-gluten-free.html
www.sonisfood.com
Our friend Bea from The Not So Cheesy Kitchen is hosting this wonderful event and if you're looking for any 'free for all' recipes,then you've come to the right place 🙂
Breakfast
Main Courses
Treats
Drinks

Be sure to join our Twitter #SundaySupper chat party starting at 7:00 pm EST today, June 9th, 2013. Follow the #SundaySupper hashtag throughout the day to see the amazing recipes. We look forward to see you 🙂 to join all you need to do is follow[ the #SundaySupper hashtag and please do not forget to include the hashtag in your tweets as well. Be sure to check out our #SundaySupper Pinterest board for more delicious recipes and photos.
Look what we're sponsoring! Come join us in sunny Orlando, this July!