Ground meats are a staple in my freezer and I use them all the time!They can be used in so many exciting dishes,such as meatballs for your spaghetti, a big bowl-full of your favorite chili, Indian curries with hot steaming rice or my Lettuce Wraps that are super easy and delicious.Wraps are a great family favorite here and I love to experiment with different flavors.Recently,when I was looking for an excuse to use leftover coconut milk in my refrigerator, I came up with the idea of making these Thai lettuce wraps using some Red Curry paste (that I always have on hand).I added some crunchy peppers and beans and voila,these amazing Thai Chicken Lettuce Wraps were born!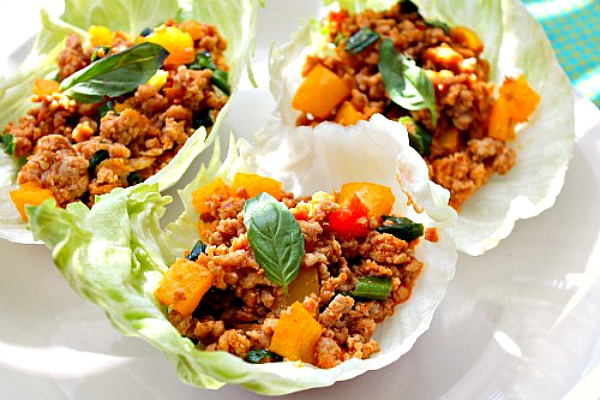 I've used ground chicken here, but you could substitute any ground meat on hand.Veggies are totally up to you.Use any crunchy vegetable of your choice and that also goes for the lettuce.Use any green leafy vegetable that can hold the filling.Its a delicious appetizer,entree for your family and a great way to add more variety into your diet!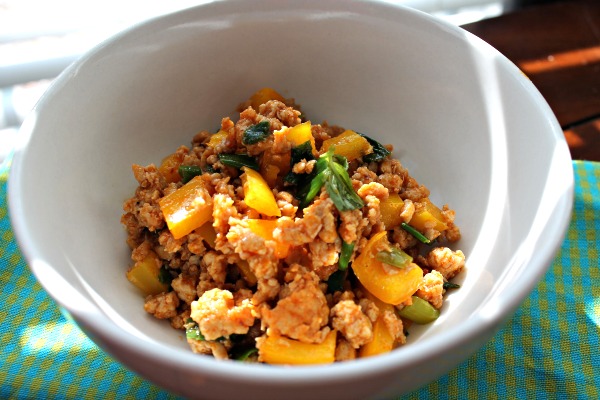 My kids had so much fun biting into the crunchy lettuce and it was great to see them enjoy this nutritious meal with so much enthusiasm!The ground chicken tastes amazing with the red curry paste that consists of a mix of galangal,lemongrass and fragrant spices and when mixed with coconut milk oozes that wonderful Thai aroma.Enjoy!
Thai Chicken Lettuce Wraps
Ingredients
Butter or Iceberg Lettuce -5-6 leaves

For the filling

Ground Chicken-1 lb
Shallots-2 diced
Garlic minced-1 clove
Ginger crushed-1/2 inch
Peppers (any color)-1 cup
Frozen Green Beans-1/4 cup
Red Curry paste-1 tbsp
Coconut milk-1/4 cup
Salt- to taste
Oil-1 tbsp
Fresh basil
Instructions
In a skillet or wok heat oil and add the shallots.
Add ginger and garlic and saute.
Add the red curry paste and mix well until aromatic.
Add the ground chicken and cook until its cooked through stirring frequently.
Add the peppers,beans and salt.Saute for about 4-5 mins.
Stir in the coconut milk and mix well.Add chopped fresh basil.
Serve 2-3 tbsp of the filling in each lettuce and enjoy.
http://www.sonisfood.com/2013/09/thai-chicken-lettuce-wraps.html
www.sonisfood.com