I spotted some gorgeous Blood Oranges while grocery shopping the other day and couldn't resist buying them!I just love the vibrant color and the sweetness and decided to try a dessert.Something I'd never made before.Panacotta.I wanted to somehow incorporate the Blood Orange and decided to make a delicous sauce to go with the Panacotta.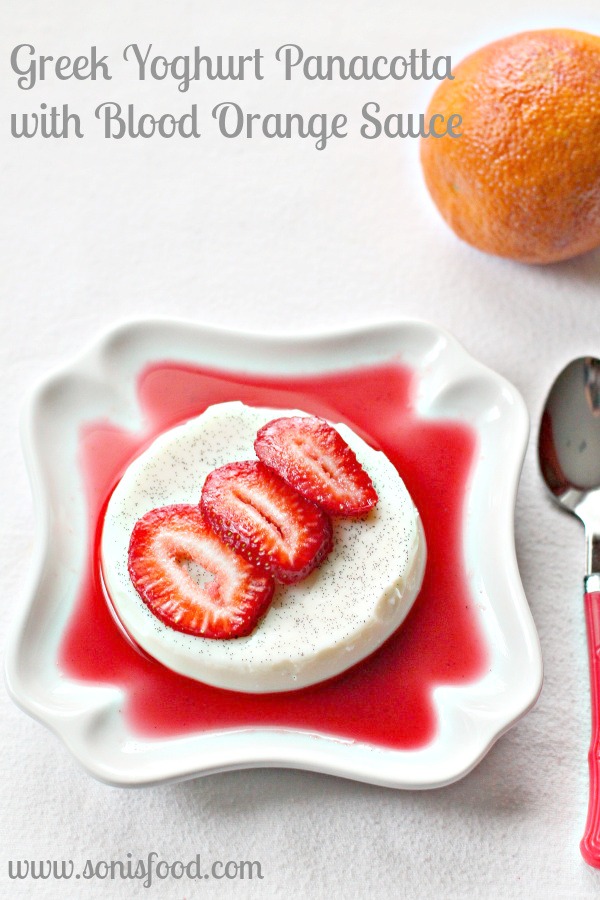 So what is Panacotta? Panacotta is an Italian pudding that uses cream,milk, sugar and gelatine that helps it set and you can top it up with any fruits you prefer.I've used a combination of Greek Yoghurt,Half and half and Whole Milk and this recipe serves four.The pudding is lighter than usual because of the Greek Yoghurt and sets beautifully.You could serve it unmouled onto a plate or in your ready to serve pretty dishes.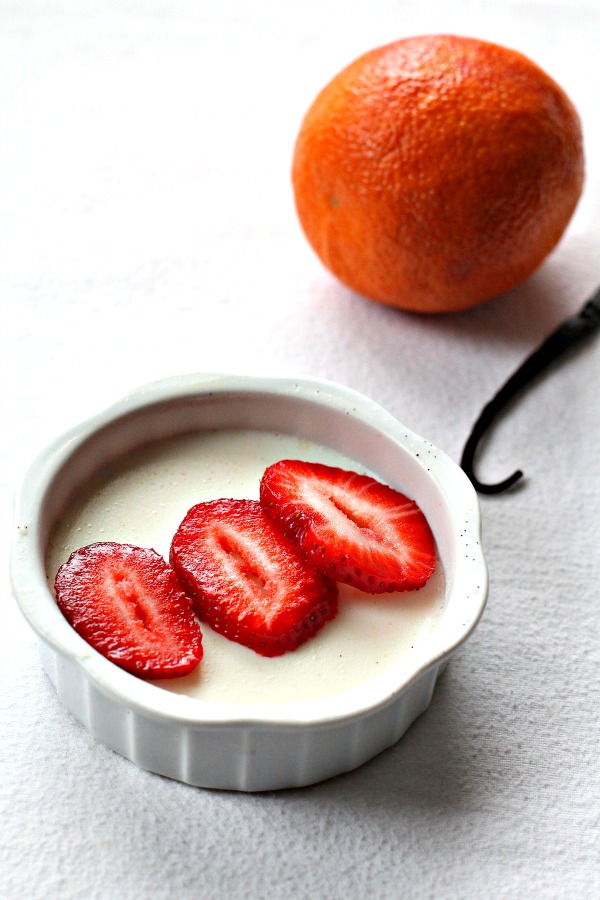 Let's talk about my sauce for a bit.I could never have imagined it to go so perfectly with the Panacotta,but it does.The juice and zest of the Blood Orange just adds so much freshness to it and every bite asks for a bit of the sauce.It looks really pretty on the plate and my kids finished it off in no time.Panacotta is perfect for a crowd,since it can be made a day ahead.Enjoy!
Greek Yoghurt Panacotta with Blood Orange Sauce
Ingredients
Whole Milk-1 Cup
Half and half-1/4 cup
Sugar-1/4 cup plus 2 tbsp
Vanilla Bean-1
Unflavored powdered Gelatine-1 sachet (10gms)
Greek Yoghurt-1/2 cup
Sliced strawberries-for garnish

for the Blood Orange Sauce

juice of 2 Blood Oranges-1 cup
Zest-1 tbsp
Sugar-2 tbsp
Instructions
In a pot heat the milk,half and half.Scrape the seeds from the Vanilla Bean and add the seeds and the pod into the milk mixture.
Add sugar and simmer on low heat just until the sugar is dissolved.Do not boil.
In a small bowl add about 1/4 cup of the hot milk mixture and mix the gelatine until dissolved completely.
Add the gelatine into the milk mixture and stir to mix.
Remove from heat.
Beat the Greek Yoghurt until smooth and add into the milk mixture whisking continuously.
Strain the liquid through a strainer.
Grease 4 ramekins and evenly divide the mixture amongst them.Put it in the referigerator to set for about 3 hours.

for the Blood Orange Sauce

Heat the juice ,zest and sugar in a pan on low heat and cook until the sauce reduces a bit.
Strain through a strainer.
Your sauce is ready.

to serve

Invert the Panacotta on to a plate.Garnish with sliced strawberries and drizzle the sauce all around.
Enjoy!
http://www.sonisfood.com/2014/03/greek-yoghurt-panacotta-with-blood-orange-sauce.html
www.sonisfood.com
Recipe slightly adapted from Food Network