"The warm afternoon sun
on an autumn day
the breeze,the trees
rustling in the wind
the colorful leaves
falling to the ground
the crunchy piles
the magic of Fall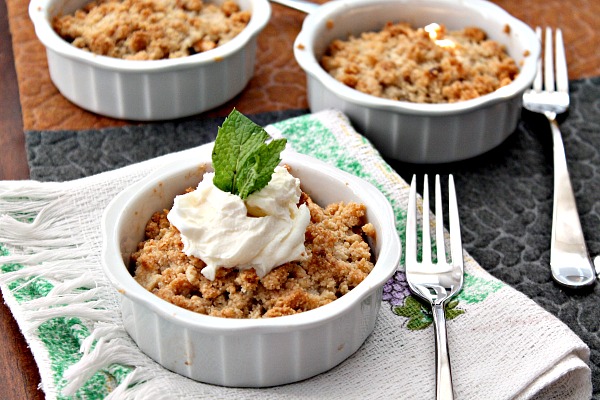 I revel in this joy
as I take my spoon
a bite is all I need
to make me swoon
The soft apples
the warm cinnamon
the crumbly topping
warm from the oven
the aroma,the delight
on my daughter's face
that mama made her favorite"
Yeah that's right,its my daughter's favorite dessert!Well, you certainly don't have to wait for autumn to enjoy this dessert. And if you're like her you will want this all year round!Apple Crumble is her most requested and I make it frequently.But this time round I used Almond Flour instead of All Purpose Flour in the topping and she still loved it!It makes for a rich buttery nutty topping that I'm really fond of and I really like the flavor.In addition, its rich in protein and anti-oxidants and ideal for baking.So even if you don't have a Gluten allergy you could still use Almond flour for its health benefits.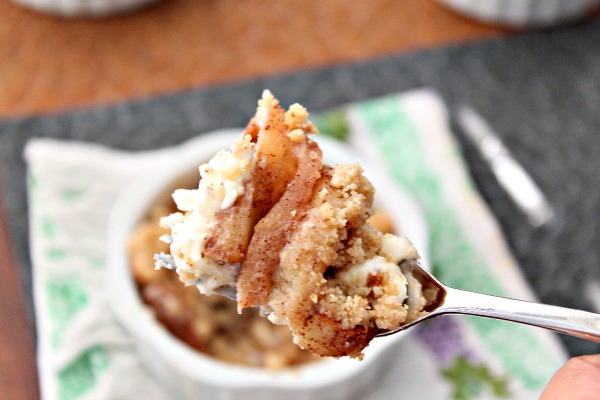 I've made them in individual ramekins for easier serving.Serve it with whipped cream ,Greek Yoghurt ,custard or Ice cream to take it to another level!The best part is that its so super easy and you can just eyeball the ingredients.Its one of those desserts that's literally no work but comforts you like none other.It feels like you've really put an effort into it but you know it better ! 🙂
Almond Flour Apple Crumble #Glutenfree
Ingredients
3 Granny Smith Apples- peeled,cored and sliced
Ground Cinnamon-1 tbsp
Brown Sugar-1 tbsp

For the topping

Almond Flour-1 cup
Chilled butter (cubed)-2 tbsp
Packed Brown Sugar -2 tbsp
Instructions
Mix the apples,cinnamon and brown sugar and place in individual ramekins.
Mix the topping ingredients by hand or in a food processor until crumbly.
Cover the apples with the topping and bake in a preheated oven at 375 degrees for 25 minutes until the topping is slightly golden.
Serve with whipped cream or ice-cream!
http://www.sonisfood.com/2013/08/almond-flour-apple-crumble-glutenfree.html
www.sonisfood.com