With this damp weather dampening our spirits,easy comforting desserts bring much needed solace.If you find yourself craving for some warm desserts on such days,then you're not alone.I've been dreaming of tarts lately and my frozen puff pastry came to the rescue yet again. What would I do without them! This buttery delicious pastry is a freezer staple and so versatile. I love tarts and having these on hand makes the process so much more easy and convenient.
Apple desserts are a family favorite and we make them a lot like this and this. They're delicious every single time and my kids can't get enough of those. My apple tarts are quick and taste amazing. All you need is your puff pastry, some thinly sliced apples (I use the slicer attachment of my food processor), brown sugar, a little salt and some lemon juice.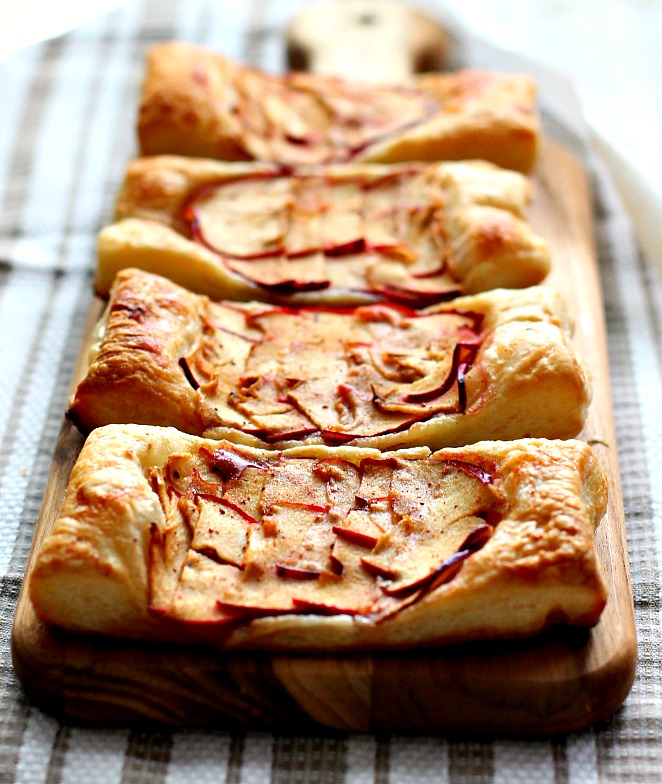 The aroma of warm apples and cinnamon baking in the oven is pure joy and nothing brings comfort like biting into a warm tart with sliced sweet apples coated with cinnamon and brown sugar. Deliciousness defined. Enjoy.
Ingredients
One sheet of frozen puff pastry
One large apple-thinly sliced
1/2 cup brown sugar
2 tsp ground cinnamon
some lemon juice
1/4 tsp salt
Instructions
Thaw the puff pastry in the refrigerator for about 3 hrs.
Dust some flour on the puff pastry and cut them in equal rectangles or any desired shape.Leave about an inch around the top and bottom edges and prick all over with a fork.
Transfer onto a parchment lined baking sheet.
Preheat the oven to 400 degrees.
Thinly slice the apples using the slicer attachment of your food processor or by hand.
Mix brown sugar,cinnamon, salt and lemon juice in a bowl.
Toss the apples in the mix.
Arrange the slices on the puff pastry.Brush the edges with some water and bake it in the oven for 20-25 minutes.
Serve warm.
http://www.sonisfood.com/2016/05/puff-pastry-apple-tart.html
www.sonisfood.com