Stir fried vegetables are a great side dish.And with the holidays nearing, its not a bad idea to add some to your repertoire of tasty side dishes.I love Indian spiced Cabbage and decided to give it a little twist by adding some sweet fennel.I don't know about you but I absolutely love Fennel and have enjoyed them in recipes like this and this.In this recipe the Cabbage and fennel combo works wonderfully and you can taste the sweet licorice flavors amped up with some spices.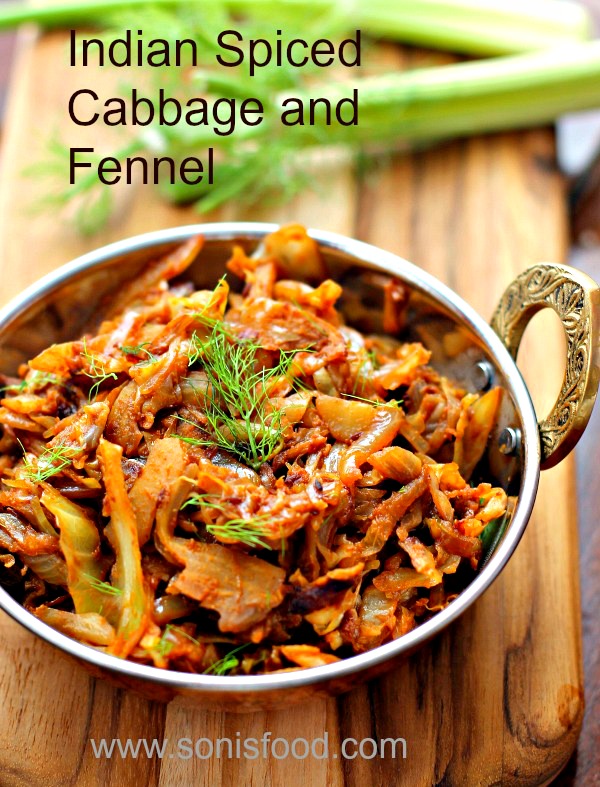 If you're pressed for time you could use sliced cabbage from Trader Joe's like I've done or just get a regular green cabbage and slice them thinly.The spices consist of smoky cumin,coriander, a little bit of garam masala and ginger.The dish brings together all these flavors and the leftovers can be turned into tasty sandwich fillings or even a savory puff pastry filling.This dish is sure to please your vegetarian and vegan guests too.I served this with some roti/chapati and dal and its an easy and delicious way to use fennel in Indian cooking.You'll be glad you tried it.Enjoy.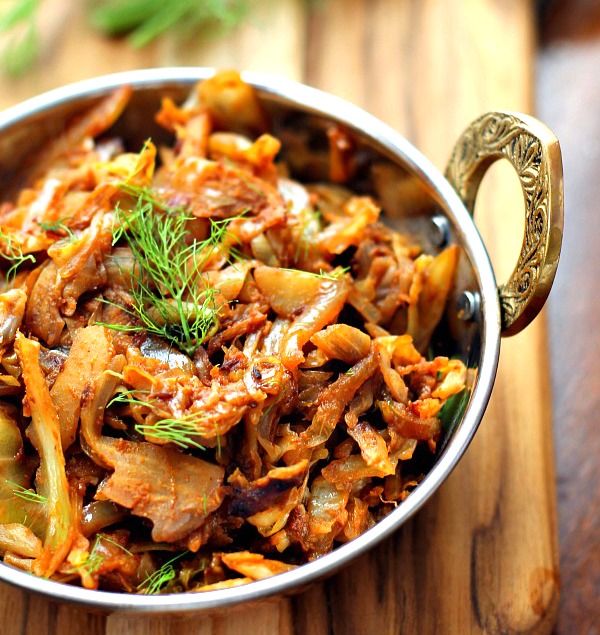 Indian Spiced Cabbage and Fennel
Ingredients
Cabbage-1 head thinly sliced
Fennel-2 bulbs (edges trimmed and thinly sliced)
Cumin seeds-1 tsp
1 large onion-sliced
1 inch ginger crushed
Ground Cumin-1 tsp
Ground Coriander-2 tsp
Red chili powder-1/2 tsp
Garam masala-1 tsp
Green chili-2 (optional)
Tomato paste--1-2 tsp
Salt-to taste
Oil-3 tbsp
Instructions
In a skillet or wok heat the oil and add the cumin seeds until they crackle.
Add the onion and saute for a about 2 mins.
Add the ginger and continue to cook.
Add the spices followed by the tomato paste and cook until all aromatic about 2 minutes.Add a tbsp of water if its sticks to your pan.
Continue to cook for about 5-6 minutes until the paste doesn't stick to the pan and oil starts to separate from the sides.
Add the cabbage and fennel along with salt.Mix well.
Cover and continue to cook stirring every few mins until evenly cooked.
http://www.sonisfood.com/2014/11/indian-spiced-cabbage-and-fennel.html
www.sonisfood.com