Spring has decided to show up late this season.I'm so fed up of this cold spell that has a taken a liking for the East Coast unwilling to let go.Temperatures are expected to go up this week and I'm hoping it stays that way and we get to finally welcome Spring.In order to cheer us up I decided to make these balls using some colorful Beets and Paneer.You could also use Tofu if you prefer.I love Mom's Beet Cutlets and decided to give a spin on those.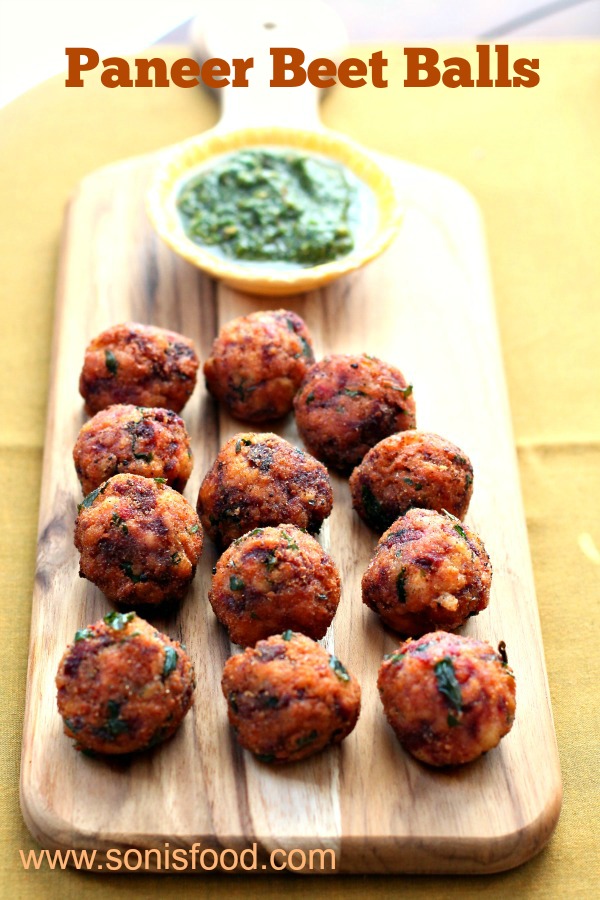 Beets scream spring to me and I love using them in my salads.But these balls are a great way to enjoy them and make for easy party appetizers too.To make the process even easier I've used store bought cooked beets and grated them along with the paneer before adding some nutty earthy spices like cumin, coriander and garam masala.The addition of jalapeños is essential here to balance the sweetness of the beets and you can go with either mild or spicy green chilies too.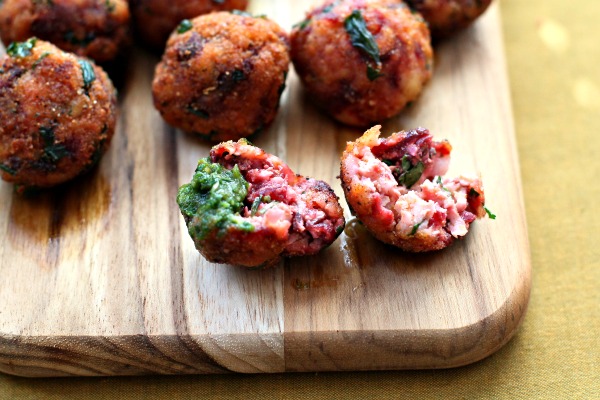 Serve these alongside some cilantro chutney or your favorite condiment and watch them disappear in no time.My kids loved this and I believe you will too.Its a keeper.
Paneer Beet Balls- Indian Inspired
Ingredients
Cooked beets-3
Paneer-200 gms
1/2 inch Ginger-crushed
Ground Cumin-1 tsp
Ground Coriander-1 tsp
Garam masala-1/2 tsp
Jalapenos or green chili-1-2 finely chopped
Cilantro-2 tbsp chopped
Cornstarch-2 tbsp
Salt-to taste
Bread Crumbs-1/2 cup
Oil-to fry
Instructions
Grate the beets and paneer either in a food processor or using a grater.
In a deep mixing bowl combine all the ingredients except bread crumbs.
Mix and form round balls.
Coat in the bread crumbs.(At this point you can keep it in the refrigerator until ready to fry)
Heat some oil in a small wok and fry the balls until golden.
Drain on a paper towel and serve hot.
http://www.sonisfood.com/2015/03/paneer-beet-balls-indian-inspired.html
www.sonisfood.com