I like a light lunch during these hot summer days and Quinoa fits the bill perfectly.I love the fact that it's healthy and you can dress it up pretty much any way you want.It soaks up the flavors added to it and tastes amazing.I've tried Quinoa with sweet and salty flavors and loved it both ways.Today I've made a simple stir fry packed with some vegetables for an easy lunch or dinner.The crunch of the veggies and a hint of ginger in the background is all this dish needs to satisfy your tastebuds.
I first tasted Quinoa in a restaurant in a salad with a sweet orange dressing and it tasted absolutely delicious!Since then I've been making it with various combinations and each one has come out good like this  Quinoa Aloo Tikki and my Quinoa Chickpea Stew that are easy to prepare and taste amazing!Its a pantry staple and I typically cook a big batch at a time.That way I have it ready and can use it whichever way I want.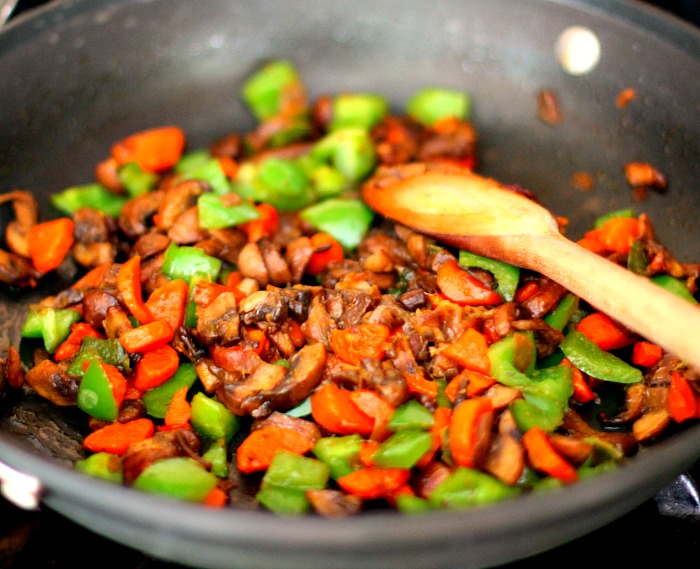 The flavors in my stir fry are pretty simple.I start off with browning some onions in oil and add the ginger followed by the veggies before adding the Quinoa.I love adding mint to my rice dishes and have treated this Quinoa dish is a similar fashion by garnishing it with sweet mint. It instantly adds its fresh sweet taste and works nicely with the rest of the ingredients.You could get creative and also add your choice of nuts to this dish if you prefer.Enjoy!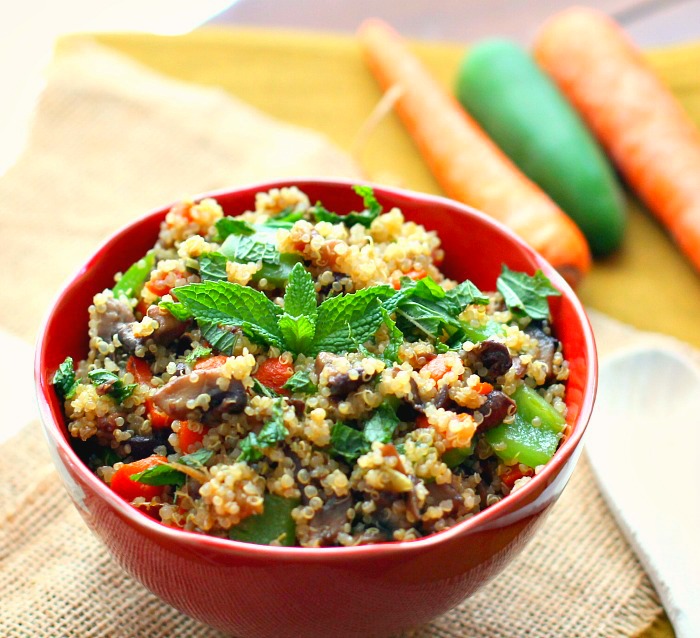 Stir fried Quinoa with Vegetables
Ingredients
Quinoa-1 1/2 cups
Water-3 cups
Onion-1 large chopped finely
Jalapeño- 1 chopped
Crushed Ginger-1 inch
1 cup peeled and diced carrot
1 cup diced green pepper
1 cup chopped Baby Bella Mushrooms
Mint for garnish
Salt
Oil-3 tbsp
Instructions
Rinse the quinoa and add in into a pot with water with a little salt.
Bring to a boil, reduce the heat, cover and cook for about 15 mis or until the water has been absorbed and the quinoa is cooked.
In a separate pan heat oil and add chopped onion and sauté until slightly golden.Add the chopped jalapeño.
Add crushed ginger and cook for half a minute and then add the mushrooms.
Saute until the mushrooms are golden .
Add the carrots along with some salt and cook for about 2-3 minutes.
Add the peppers and mx well.Once the veggies are cooked add the quinoa.
Mix well and check the seasoning.
Garnish with chopped mint.
http://www.sonisfood.com/2015/06/stir-fried-quinoa-with-vegetables.html
www.sonisfood.com