This Sunday,Hindus,Jains and Sikhs all over the world will be celebrating Diwali the festival of lights.Its a celebration of the triumph of good over evil and is marked by lighting up our homes with lots of Diyas (earthen lamps),Lanterns,Candles and colorful lights.Back home,in the evening fireworks light up the skies and people cannot get enough of burning fire crackers in their yards! Families get together to celebrate and enjoy with sweet and savory delicacies.Its the biggest festival in the Hindu Calendar and preparations start days in advance.For us though, the celebration this year is subdued without my Dad, but I know he's smiling down and giving us his blessings.Miss him.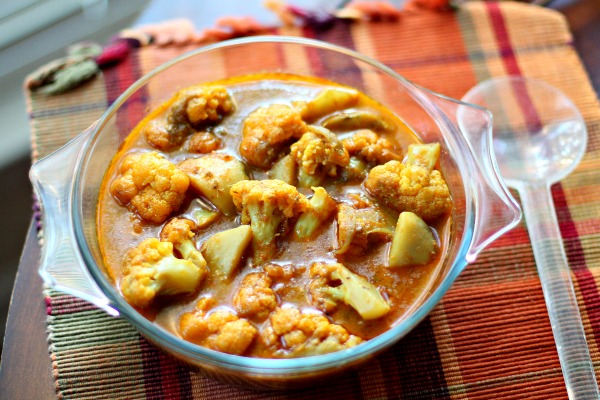 In my family there's always been a set menu for Diwali consisting of a few dishes that Mom makes every year.I try to cook some of them over here, just to connect with that fervor back home. Aloo Gobi is one such dish that's a firm favorite around any festival in my house and also one of my most favorite vegetable dishes of all time.It has bold North Indian flavors going on and its a family recipe that you won't find on the menu in any Indian restaurant.The taste is unbelievable.I love the flavor of Cauliflower and the Potatoes when they're shallow fried in a little oil just to get those golden edges all around before adding them into the sauce.This process gives this dish a unique flavor and transforms it into something special.
The sauce consists of onions,garlic,ginger along with some spices that includes Black Cardamom (Badi Illaichi).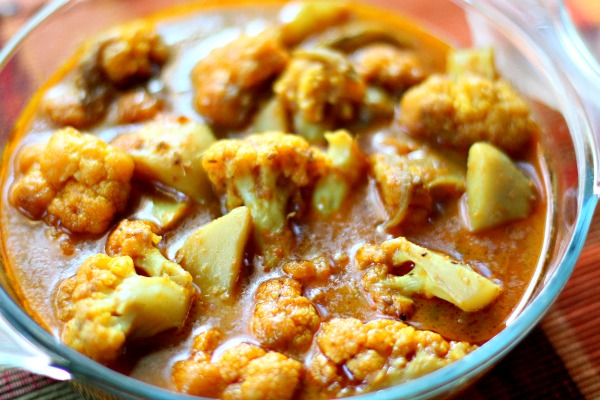 Black Cardamom is easily available at your Indian grocer and unlike Green Cardamom it cannot be used in desserts.It has this dense smoky flavor and a little goes a long way. You put the whole thing into your food processor along with the rest to make a paste.That becomes the base for your sauce.The mixture is then added into the wok and cooked with some spices before adding the cauliflower and potatoes.This is a dish meant for special occasions and comes out great every single time.Enjoy with some warm Naan bread ,Rotis or my Vegetable Pulao.
Here's Wishing all my readers a Very Happy Diwali glowing with Peace,Joy and Prosperity!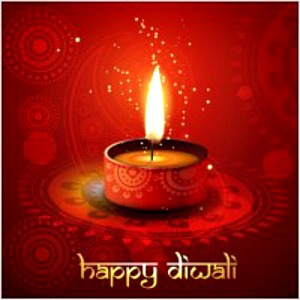 Ingredients
Potatoes-2
Cauliflower Florets-2 cups
Bay Leaf-1
Medium Onion-1
Garlic Cloves-4-5
Ginger-1 inch
Cumin Seeds-1 tsp
Black Cardamom-1
Cinnamon-1/2 inch
Tomato-1 medium chopped fine
Ground Coriander-1 tbsp
Ground Cumin-1 1/2 tsp
Red Chili Powder or paprika-1 tsp
Turmeric-1 tsp
Salt- to taste
Oil-5-6 tbsp
Water-1 1/2 cups
Instructions
Peel and cube the potatoes into about 2 inch cubes.
In a food processor add the onions,garlic,ginger,cumin, cardamom and cinnamon.Add a little water to make a paste.Puree until smooth.Keep aside.
In a wok or a skillet heat 2-3 tbsp of oil on high and add the potatoes and cauliflower.
Add some salt and turmeric and saute until you see them turn slightly golden about 3-4 minutes on high.
Empty on a plate.
In the same wok add 3 tbsp of oil and add a bay leaf and the pureed onion mixture.
Saute the mixture on medium until the raw onion smell disappears.
Add the chili,coriander,cumin,turmeric and some salt and continue to saute until aromatic.
Add the chopped tomatoes and cook until oil separates.Add the cauliflower and potatoes.
Mix well and saute for about 2 minutes.
Add the water, bring to a boil.Lower the heat,cover with a lid and cook until potatoes are tender and cauliflower is cooked.Make sure that the cauliflower is not over cooked and still has a bite to it.
Check the seasonings.
Serve hot with naan, rotis,puris or rice!
http://www.sonisfood.com/2013/11/aloo-gobi-for-diwali.html
www.sonisfood.com