Thanksgiving side dishes are a great way of adding a good mix of items on your table. There's the sweet potato casserole, mashed potato and roasted veggies that are super delicious. But my biggest hit last Thanksgiving was this Vegetarian Sourdough Bread Stuffing that my guests couldn't get enough of.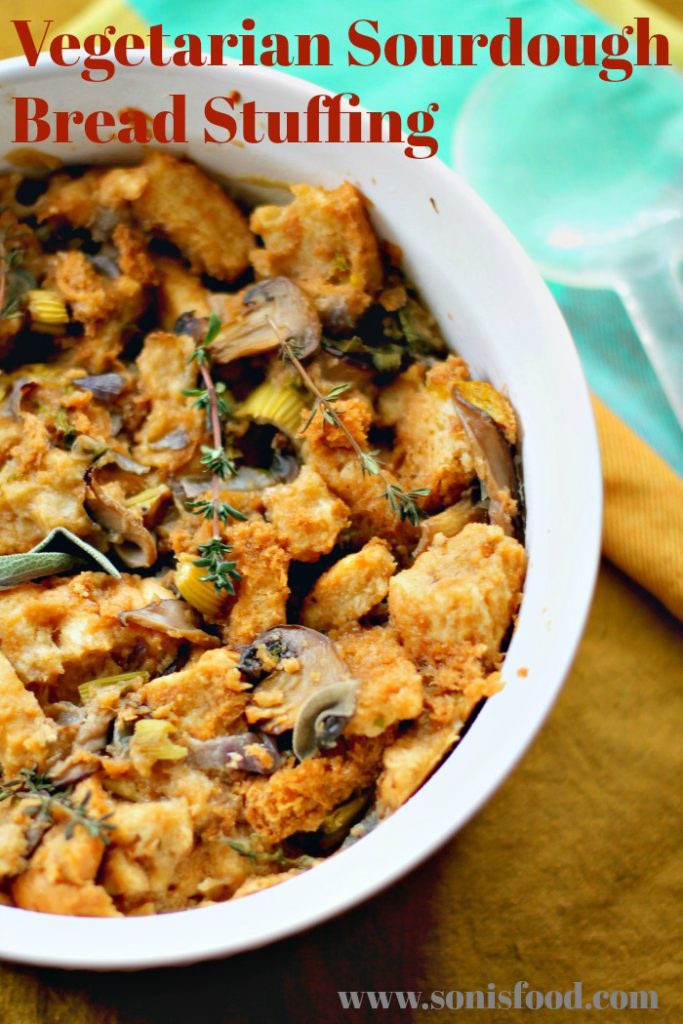 This is one easy dish that takes no effort and tastes like you've spent hours in the kitchen! Its flavorful, looks beautiful and is a great side dish for your vegetarian as well as meat loving guestsI just love this and it seemed like the perfect dish to share with you for Thanksgiving.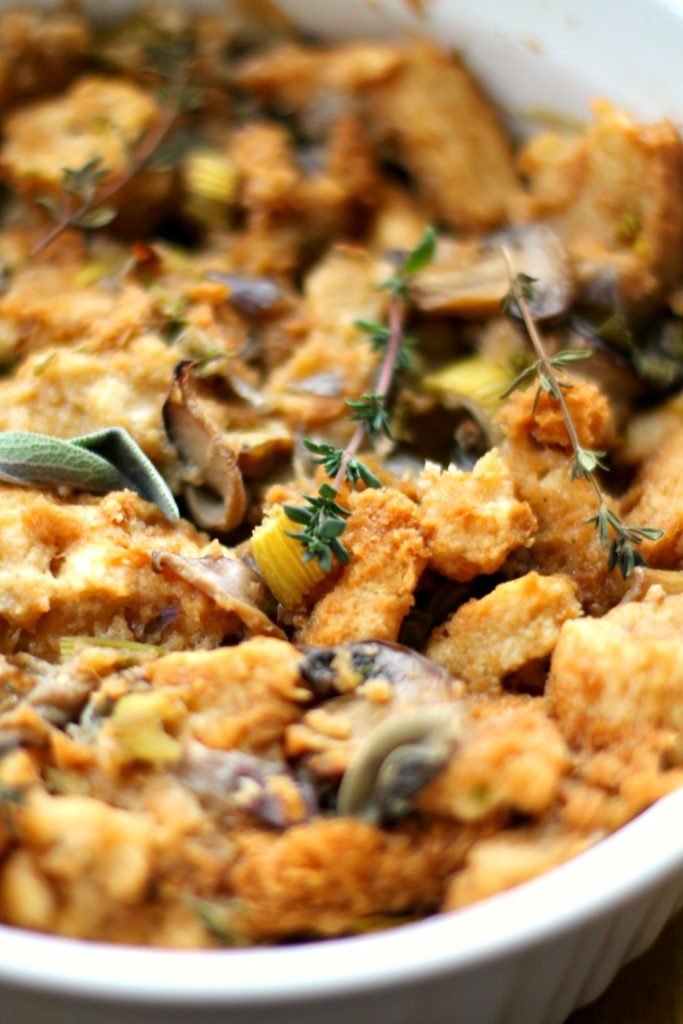 I've used Dave Liberman's recipe and made it pure vegetarian by using vegetable stock.You can use store bought vegetable stock or make your own. The mushrooms are a great addition to this meatless stuffing and you don't miss the meat at all!The combination of sage and thyme works wonderfully. I've used a mix of cremini and shitake mushrooms along with red onions and the flavors are to die for.Serve alongside your other favorites and enjoy!
Have a Happy Thanksgiving!!
Vegetarian Sourdough Stuffing for #Thanksgiving
Ingredients
Soudough Bread-1 lb loaf
8 oz pack of cremini and 4 oz pack of shitake mushrooms
4 Celery stalks with leaves
1 medium onion
3 1/2 cups of vegetable stock
10 sage leaves and some fresh thyme
salt to taste
pepper
3 tbsp of butter
Instructions
Heat the oven to 350 degrees.
Grease a baking dish.
Slice the mushrooms and chop the celery and onions.
Cube the bread into 1 inch cubes and place In a large baking sheet.Bake until they're slightly golden and toasted.
In a skillet heat 2 tbsp of butter and add the mushrooms.Cook until they turn slightly golden.
Add the onion and celery and saute for a few minutes.
Add the stock, salt and pepper.Mix well.
Place the toasted bread pieces into a large dish and pour the veggies along with the liquid.Toss to combine.
Pour the mixture into the prepared baking dish and bake for 40 mins.
http://www.sonisfood.com/2017/11/vegetarian-sourdough-bread-stuffing-for-thanksgiving.html
www.sonisfood.com